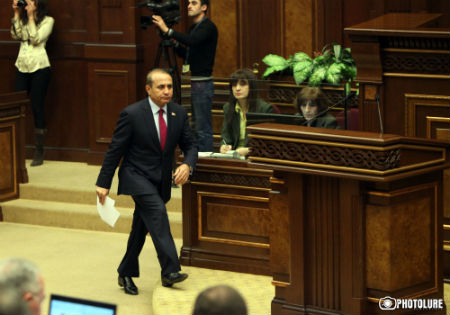 On February 25 discussions took place in the National Assembly on creating an ad-hoc committee to look into the natural gas agreements. Speaker of the National Assembly Hovik Abrahamyan stated that coalition members do not plan on using the committee to "conceal" the details of the accrued natural gas debt and prices. "We discussed this issue during the executive session of the Republican Party. President Sargsyan said that if there are people who took advantage of their position they will be held responsible," stated Abrahamyan.
In regards to the composition of members in the committee, Abrahamyan noted that the Republican Party approached non-coalition factions of parliament because the committee will have an equal number of members from all coalition and non-coalition factions. As to why the head of the committee will not be from the opposition, Abrahamyan stated that since the position does not hold any additional authority, they wanted someone who was an experienced lawyer, hence Davit Harutyunyan from the Republican Party will be heading the committee.
According to the Speaker, the committee should complete its task by the end of the National Assembly's spring sessions. "We don't mind if it lasts until June because we don't want to fail," said Abrahamyan. In regards to the suggestion that the committee hold open sessions, Abrahamyan noted that their main aim is to work and not provide a platform for people to "act as demagogues."
The vote for the creation of the ad-hoc committee will take place on February 26.