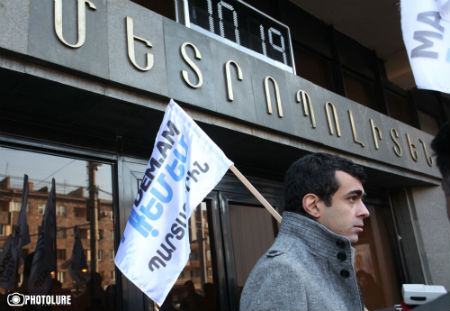 On the morning of February 12 approximately 30 employees of the Karen Demirchyan Yerevan Metropolitan Subway System protested in front of the Metropolitan office building in Yerevan. They were protesting wage deductions by the administration due to the controversial mandatory accumulative pension system that came into force on January 1, 2014. Members of the "Dem.am" civil initiative also joined the protest.
According to the protesters, their complaints are directed primarily against the mandatory component of the accumulative pension law and not so much the amount of money that was deducted from their salaries. In an interview with Civilinet's reporter on the scene, however, the participants noted that even though only 4000-5000 AMD was deducted from their salaries, the "effect this was having on their way of life was great."
Near 200 employees of Yerevan's subway system subjected to this new law appealed to the director, demanding that he stop the wage deduction and to return those amounts that were deducted from January.
The director promised to respond to the protester's demands within a week. The protesters dispersed, but noted that they would return.
On February 10 protests against the mandatory accumulative pension system were also organized by the South Caucasus Railway Company and the workers of the Alexander Spendiaryan National Opera and Ballet Academy Theater.
Those citizens born after 1974 will be incorporated into the new pension system. Those who are to be part of the new pension plan will have to accumulate their pension in a privately run pension fund which will be managed through designated fund administrators.