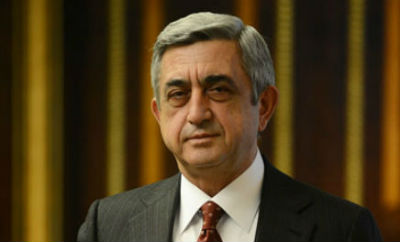 President Serzh Sargsyan was in Prague on an official state visit. On January 30 he met with Czech President Miloš Zeman.
The two presidents held talks after which several bilateral agreements and memorandums of understanding were signed between the governments of Armenia and the Czech Republic in the spheres of battling crime, health care, disaster prevention, environmental protection and economic and industrial cooperation.
Following their meeting, the Armenian and Czech presidents held a joint press conference. Below we present some passages from President Serzh Sargsyan's speech:
"Prague holds a high place in Armenia's European agenda, which is one of our main foreign policy priorities. About five years ago it was in Prague where the Eastern Partnership took off and Armenia undertook a commitment to enhance its cooperation with the EU. We reaffirmed our commitment at the Vilnius Summit last November. We are determined to further enhance and expand our relations with the EU. In this regard we expect the support of those nations with which we have good relationships, especially Czech support.
The Eastern Partnership may serve as a bridge that can foster economic integration from the Atlantic Ocean to the Pacific. We are committed in making sure to create a more inclusive Europe, free from dividing lines. And I am thankful to the President for his understanding of our decision to join the Customs Union."
Regarding the Czech Republic's position on Nagorno Karabagh, President Sargsyan said:
"We highly appreciate the Czech position in supporting efforts of the OSCE Minsk Group Co-Chairs to find a peaceful resolution to the Nagorno-Karabagh conflict. The principles and provisions embedded in the statements made by the presidents of the OSCE Minsk Group Co-Chair countries– Russia, the USA and France – provide a firm foundation for the just and lasting settlement for the conflict.
However, the resolution of this conflict will not be realized if Azerbaijan continues its malicious policy of aggressive propaganda, inciting an arms race and provocative actions along the Line of Contact. It's high time for Azerbaijan to adopt a constructive approach to an exclusively peaceful resolution of the conflict. I would like to emphasize, Mr. President, that we expect the international community to show an impartial stance towards the resolution of the Karabagh conflict.
I wholly agree with President Zeman that regional conflicts should be resolved through exclusively peaceful means and negotiations.
I believe our meeting was productive and hope that Armenian-Czech dialogue and cooperation will develop and widen in various sectors through mutual efforts and based on already existing cooperation."
President Sargsyan noted that President Zeman accepted his invitation to visit Armenia for an official trip.