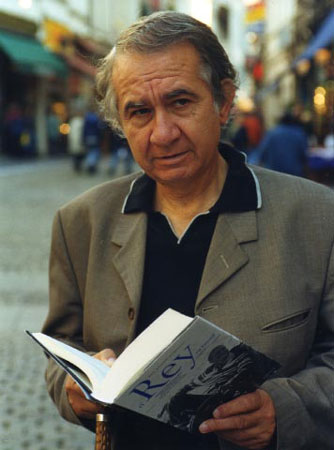 "I would like the Turkish government to apologize to the Armenian people and feel satisfaction for it, " says Jose Antonio Gurriaran.
On December 1980 in Madrid, Spanish journalist Jose Antonio Gurriaran was injured by chance in an ASALA attack. Afterwards, he started to take an interest in the group's motives. Two years later, Gurriaran wrote a book called "The Bomb," discussing the Armenian Genocide and Armenian issues. In his interview with Civilnet, he modestly states that what happened to him was much smaller than what happened on 1915.
Mr. Gurriaran, has it become more difficult or easier to talk about what happened to you?
It's easier for me. I've never had a problem talking about it. Today, I still give the same explanation I did 31 years ago when the terrorist attack occurred.
Sometimes, people regret their decisions after many years. Have you changed your views regarding your past (life)?
I have not changed my opinion, I condemn all acts of violence committed by force, but I understand that the Armenian people have suffered greatly. I consider that the Genocide has been so terrible that what happened to me is very small. I have not changed my opinion and stand by my line of reasoning, I hold no grudges and I feel fortunate.
Today, when you read about the ongoing denial, does it shock you that we are in the same situation compared to 31 years ago?
What is surprising is that ever since 1915, all Turkish governments have been similarly immoral and ignorant. It's unbelievable that modern Turkey has not had the courage to accept what its ancestors did not. It's unbelievable that Germany has accepted the Jewish Holocaust and has been more noble, that it had a courage that Turkey doesn't have. Now in Turkey, appear intellectuals like Pamuk and Akcam, who condemn the Genocide. The Turkish government has closed their ears and eyes.
What can you say about Turkish responsibility?
Turkey's responsibility is moral, as well as political and cultural because it tried to annihilate not only a people but an entire culture, language, and religion.The Armenian Genocide had more components than any previous mass killings. The subsequent Holocaust had many components, but not as many as the Armenian [genocide] had. There was mass deportation, physical destruction, attempts to destroy language and religion and destruction of settlements and churches. This still continues, with campaigns to restore a church while Ani and numerous other settlements have been destroyed.
I'm astonished that for years, you and we relive what happened to you 31 years ago and you try to find its root causes. We have relived that too, and for 98 years we have been trying to find the root cause and go forward. How many more years will we have to wait?
Regarding the terrorist acts, no one can present an opinion [it's impossible to predict.
The terrorist act is a forgotten issue. That's a story that belongs in the past, which took place on October 1980, 32 years ago. For me that has past, now other issues concern me. What concerns me is my family, my children, and my professions as a journalist and writer.
I would like the Turkish government to apologize to the Armenian people and feel satisfaction for it. The 100th anniversary is close, and I hope Turkey will be afraid of the Armenians, along with pressure from other countries, and feel obliged to accept the Genocide.
Turkey cannot, and has no right to become a European Union member state if it doesn't accept the Genocide. It doesn't have that moral, intellectual, and social capability which is so necessary to be involved in the civilized and democratic club of member states of the European Union.
You visited Armenia five or six years ago. What left the biggest impression on you?
What was stamped into my memory was a pleasant, civil, and hard- working people, and what impressed me was the culture. Armenia has been strategically placed in the center of [world] culture. Many civilizations have been born near the Tigris and Euphrates, the caravans have passed through Armenia along with Marco Polo and others through the Silk Road. They have all been amazed by the Armenians' great culture. In 405, Armenia created their alphabet, their national religion and alphabet are very important facts.
Interviewed by Salpi Ghazarian