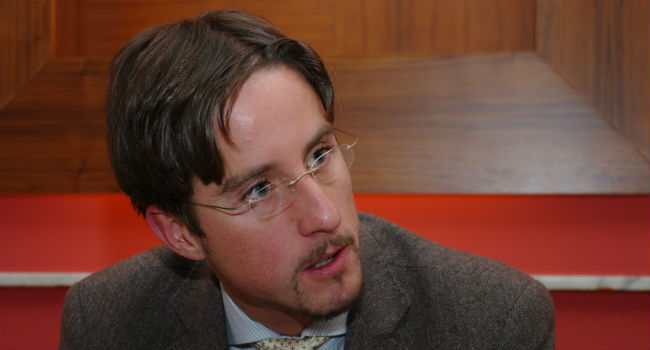 Photo/from CivilNet's Archive
Michael Kambeck, Secretary General of the Brussels- based organization European Friends of Armenia (EuFoA) has issued a statement in response to an article published by the Paris-based Nouvelles d'Arménie Magazine in their April 2013 issue (No 195), English and Armenian translations of which were published on CivilNet.
"Having read the article published by Nouvelles d'Arménie (NdA) Magazine in their April issue (No 195), which was republished by CIVILNET on 10 April (translated into Armenian and English), I stand by my initial reaction (see below), which I sent by e-mail while on holiday and which was published on our Facebook page on 11 April 2013. In addition, it is noteworthy that we invited NdA to ask us further questions, but they preferred not to communicate with us, and that CIVILNET deleted my entire response passage to NdA in the re-publication for their Armenian readers (see below), publishing only the biased NdA analysis."
Below, please find the original reply that Michael Kambeck sent after being contacted by Nouvelles d'Arménie Magazine:
"You have contacted me on behalf of an undisclosed journalist who wants to write about Armenian opinion poll, without asking a single question about any poll, listing a number of misleading questions about the possibility, which to us is inconceivable, that there may be some organisational or financial link between EuFoA and my former employer Burson-Marsteller, and overlooking the publicly available information that Burson-Marsteller has in recent years been working for President Aliyev's "Baku 2020" bid, and asking why I am concealing information about my CV while that information is available via a Google search.
Apart from the TNS-poll, the only fully transparent and supervised poll (showing of all representative polls the highest ratings for R. Hovhannisyan and the strongest decrease for S. Sargsyan), you may also be interested in our more routine activities, such as our on-going lobbying work regarding the European Parliament's Turkey resolution; or our on-going information campaign countering the shamefully dishonest "Khojaly genocide" PR campaign by the government of Azerbaijan; or our on-going information campaign countering their equally slanderous Khojaly airport PR campaign; or our on-going one-year research scholarship for a European conflict researcher in Stepanakert; or my recently-published book "Europe's next avoidable war – Nagorno-Karabakh"; or our on-going lobbying and information campaign for a Deep and Comprehensive Free Trade Area between Armenia and the EU, aiming at a more efficient and competitive Armenian economy and a more law-based and pluralistic democracy; or our study trips to Armenia and Karabakh for academics and decision makers. These activities are what we spend the bulk of our time and resources on."
While travelling, Michael Kambeck issued the following interim statement on 11 April in response to an article published by Nouvelles d'Arménie Magazine in their April issue (No 195) and by CivilNet on 10 April.
"On holiday with my family, I was told over the phone about an article by Nouvelles d'Arménie Magazine. The parts that were read out to me were highly misleading and apparently politically motivated. Already the questions sent to us in March revealed an attempt to create a politically suitable story, rather than seeking any truth about the TNS opinion polls which we commissioned. Not a single question was about these polls. In January, EuFoA invited Nouvelles d'Arménie Magazine to Armenia, as part of our party-politically neutral work to invite European media to report about the elections. At that time, we had no information about the new style and political mission of the paper, which, so I'm told, came with a recent change of its chief editor. We are sad about the demise of this traditionally important Armenian voice in Europe. We will react in an appropriate manner after my return, during the course of next week.
Anyone who has ever worked with us on a project saw our party-political neutrality. The TNS polls were absolutely independent, not a single digit was influenced by EuFoA, every step was transparent as in no other poll, and we still invite anyone who is genuinely interested to check anything they want with TNS and with us. For the first time in Armenia, the public had access to the real data about the political situation in the country in the run-up to the elections, as should be the case in a democracy. We are proud of this contribution. Party political activists from all sides have criticised these polls whenever the data did not suit them – and in the last four polls this was true for each political party at least once. This is part of the political game, but journalists and NGOs should not become drawn into it."