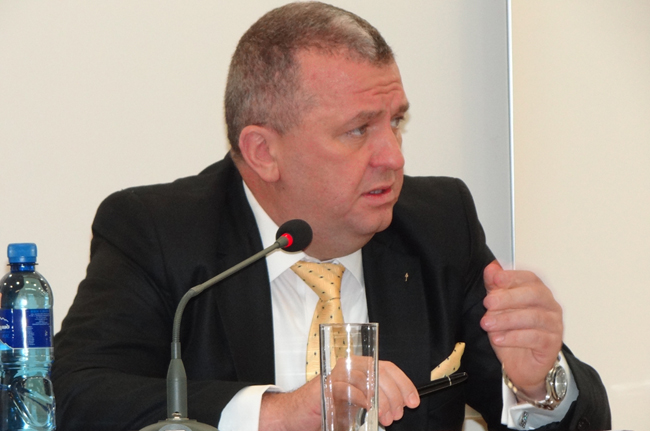 Romanian Ambassador Sorin Vasile
On December 3, CivilNet published an article by Guillaume de Chazournes about remarks made by Sorin Vasile, Romania's Ambassador to the Republic of Armenia at a lecture in Yerevan. During that lecture, Ambassador Vasile made derogatory remarks about sexual and religious minorities when attempting to answer a question about the moral imperative of recognizing the Armenian Genocide. Following the publication of that article, Ambassador Sorin Vasile issued the following statement to CivilNet:
"In connection with the article published on Civilnet on 4 December, about my conference to the American University, I want to convey my heartfelt regret that my remarks on the tragic events that caused infinite suffering to the Armenian people at the beginning of the past century have come to cause, beyond any remote intentionality, some offense to the Armenian people. It is with deep regret that I take how my comments to a question were interpreted. I am profoundly sorry for any unfortunate misunderstanding that may have any potential bearing on the solid traditional relations between the Romanian and Armenian peoples, built in centuries on mutual support and trust.
It may be the case that some of my remarks have been considered misplaced and if so the case I am deeply sorry for it.
I firmly underline that Armenia has a friend in me. I hold the genuine trust that my activities involving both the local authorities and the Armenian public at large, my statements and interviews testify to the highest consideration that I have for Armenia as a country with a great and rich history and for its future."
Sorin VasileAmbassador of Romania to the Republic of Armenia
*Note to readers from the author:
"After the viral spread of the article, the Ambassador finally agreed to apologize. Despite repeated requests during the conference and then a week later by email with the exact transcript of his remarks, he had thus far refused to apologize. This story reflects what Antonio Gramsci, an Italian journalist, said about the role of journalism that it should "invite the public to get out of its passivity by mobilizing its own emancipating force." So, thank you to all the readers, who showed their indignation by widely sharing this article, which contributed to procuring a public apology by Ambassador Vasile." Guillaume De Chazournes