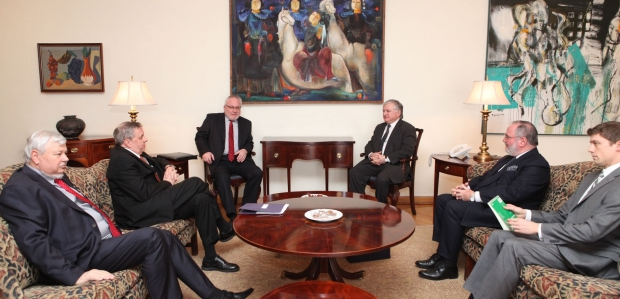 Elmar Mammadyarov, Minister of Foreign Affairs of Azerbaijan met with OSCE Minsk Group Co-Chairs, Ambassadors Igor Popov of the Russian Federation, Jacques Faure of France, and James Warlick of the U.S. and the Personal Representative of the OSCE Chairperson-in-Office, Ambassador Andrzej Kasprzyk in Paris on March 10.
During the meeting the sides discussed the present stage of the negotiation process of the Nagorno-Karabakh conflict.
After the meeting, Ambassador James Warlick wrote on this Twitter page that he hoped a meeting will take place between the Presidents of Armenia and Azerbaijan this month. He said: "We hope the Presidents of #Armenia and #Azerbaijan will meet this month. Only they can address the most difficult issues of #peace." The last time the two presidents met was in Vienna on November 19, 2013.
On Tuesday, March 11, the OSCE Minsk Group Co-Chairs and OSCE Chairman-in-Office's Personal Representative met with Armenian Foreign Minister Edward Nalbandyan in Moscow. The Co-chairs presented the results of their meeting with Azerbaijani Foreign Minister Mammadyarov held a day earlier. Following the meeting, U.S. Co-Chair James Warlick tweeted: "Talks with FM Nalbandian in Moscow confirm that #Armenia seeks a peaceful settlement in Nagorno-#Karabakh. We pursue options for dialogue."