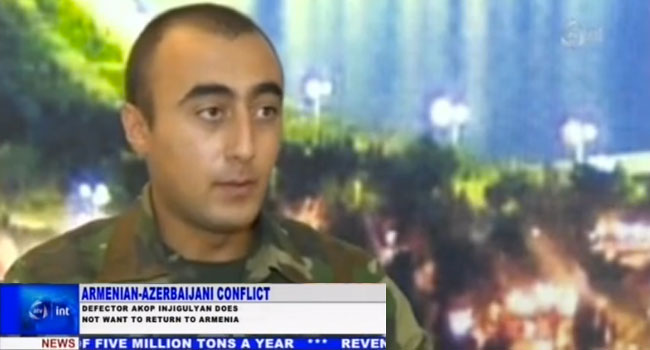 Azerbaijani authorities have broadcast a second interview with Armenian Prisoner of War Hakob Injighulyan on Caspian International Broadcasting Company, on August 23. The first interview with the Armenian POW was aired on Azerbaijani television on August 12 where he was shown wearing an Azerbaijani army uniform.
Injighulyan, a conscript in the Armenian Armed Forces, was captured by Azerbaijani troops on the heavily-fortified Line of Contact near Nagorno Karabakh on the night of August 7. The 22-year-old, who had already completed one year of military service, had accidentally crossed into Azerbaijani-controlled territory, according to the Armenian Defense Ministry.
This second interview, like the first, is a direct violation of Article 13 of the Geneva Convention on the Treatment of Prisoners of War, which states, "Prisoners of War must at all times be protected, particularly against acts of violence, of intimidation and against insults and public curiosity by the Detaining Power."
In the second interview, the Azerbaijani authorities are contravening that provision and showing Injighulyan purportedly renouncing any interest in returning to Armenia. The soldier's diction is halting and apparently made under pressure. CivilNet will not air the interview in order not to become party to Azerbaijan's propaganda machinations.
For Armenian, press here