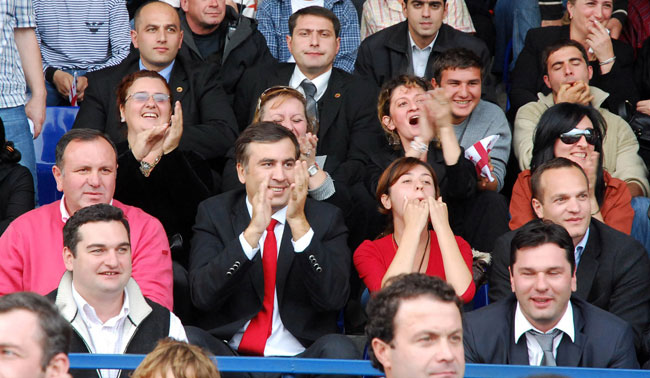 Georgia is gearing up for a parliamentary election on 1 October that in some respects very much resembles the Armenian parliamentary ballot in May. In both cases, an oligarch renowned for his charitable activity has emerged as the main challenger to an entrenched ruling party widely perceived as corrupt. And despite repeated pledges by the president that the ballot will be the most democratic ever, apprehension among the opposition that the outcome will be rigged in favor of the ruling party poisoned the campaign atmosphere.
There are also crucial differences, however. In Armenia, the parliamentary election was seen as the first round of the presidential election due in February 2013 in which incumbent Serzh Sargsian will seek reelection. By contrast, Mikheil Saakashvili is barred by the constitution from running for a third consecutive presidential term. His political future thus hinges on his United National Movement winning a large enough majority to shoehorn him into the post of prime minister: the country's new constitution adopted two years ago conveniently transfers many powers from the president to the premier.
In Armenia, the May election was virtually de-ideologized. The insistence by authorities and opposition alike on the need to ensure the vote was, and was acknowledged as free, fair, and an accurate reflection of voters' preferences eclipsed party programs and dogma. In Georgia, however, Saakashvili is presenting the vote as a landmark referendum on Georgia's future, a choice between his own pro-Western, pro-democracy orientation or reverting to a state of crime, corruption and stagnation in which Georgia is again dominated by Russia.
That simplistic perception derives its limited credibility primarily from the failure of Bidzina Ivanishvili, the billionaire leader of the Georgian Dream coalition, to spell out clearly the implications of his pragmatic insistence that Georgia must craft a more flexible, less confrontational policy towards Russia – but not at the expense of strengthening ties with the US and the European Union.
Ivanishvili, now 56, made his multi-billion dollar fortune in Russia before retiring to live as a virtual recluse in his home village of Chorvila in western Georgia. One year ago, he emerged from obscurity to announce his intention of creating a political party to participate in this year's parliamentary election and win an absolute majority that would enable him to eradicate the corruption he claims pervades the current Georgian leadership.
Several other opposition heavyweights, including former ambassador to the UN Irakli Alasania, have since joined Ivanishvili's six-party coalition. The Georgian authorities responded by targeting Ivanishvili's business interests and imposing multi-million dollar fines for his alleged violations of new legislation on party funding.
Consequently, the upcoming ballot has become a virtual war between Saakashvili's United National Movement and Ivanishvili's Georgian Dream, with each side seeking to portray the other as the primary threat to the country's survival as a democratic sovereign state. The remaining 16 parties and one bloc are to all intent irrelevant, even those that stand a good chance of winning parliamentary representation.
The NDI, the EU, and the OSCE Parliamentary Assembly have deplored the ensuing polarization of the political landscape: the EU stressed in a September 3 statement that "elections should be first of all about political programmes and ideas."
Both Saakashvili and Ivanishvili say they are confident of winning by a large margin. True, tens of thousands of Georgians continue to flock to Ivanishvili's campaign rallies, but it is unclear how many of them plan to vote for him, and how many are simply curious to see him in the flesh, the way Armenian voters were drawn to Gagik Tsarukian. A poll conducted in August by the NDI showed the United National Movement's rating up 1 percent in August from 36 percent in June; Georgian Dream's rating nosedived from 18 to 12 percent.
It is not clear whether and to what extent that drop is the result of Ivanishvili's announcement – of which 62 percent of NDI's respondents disapproved – that he will call for street protests in the event that the election outcome is falsified. The Georgian leadership has construed Ivanishvili's refusal to sign a code of conduct aimed at ensuring the election is fair unless the fines imposed him are revoked as evidence he plans such protests.
As Irakli Menagharishvili, who served as health minister under Eduard Shevardnadze, points out, in the two decades since independence Georgia has never yet experienced a peaceful transition of power.
Liz Fuller