The Wine Incubation Project is a vivid example of successful cooperation between two programmes operating in the field of sustainable economic development and employment promotion – Economic and Social Participation of Vulnerable Displaced and Local Populations in the South Caucasus (EPIC) and Private Sector Development and Technical Vocational Education and Training in the South Caucasus (PSD TVET).
The programmes are implemented by Deutsche Gesellschaft für Internationale Zusammenarbeit (GIZ) GmbH on behalf of the Federal Ministry for Economic Cooperation and Development (BMZ). Below is the story of Sarkis Yazdjian
"One should always live with hope. Age doesn't matter. If you plan to do something and believe in its success you will succeed. I do believe in it".
59-year-oald Sarkis Yazdjian comes from Syria. In 1980s, he studied as an electrician-engineer at Yerevan Polytechnic Institute and came back to Aleppo, where he had been running a plastic recycling plant until 2012. However, the war made Sarkis leave Syria and move to Armenia with his family. Here Sarkis had to start from scratch and get new skills.
"When we moved to Armenia, first we leased six hectares of land with our friends, four of us, to do farming in Ararat region. In the first year, we planted vegetables. However, in the second year we decided to grow technical varieties of grapes to be used for brandy and vodka", recalls Sarkis.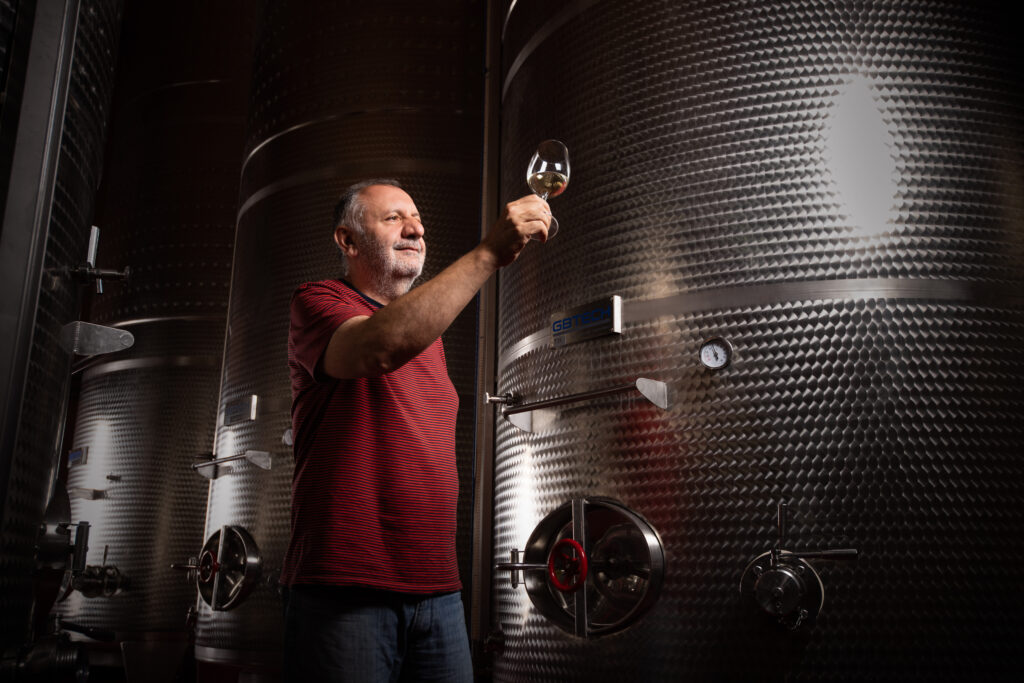 Over time, three of the four friends left Armenia and Sarkis had to sell the land thinking that the job was not his. However, getting informed about the intensive winemaking courses organised by GIZ he decided to go back to the land and try once again.
"I decided to try my hand at winemaking for two reasons: first, I adore wine. It's my most preferred drink. I got more excited especially after learning about the centuries-old traditions of Armenian winemaking. Afterwards, when I happened to have my garden and work with the grapes I realised I liked it which inspired me to start all this", notes Sarkis.
According to him, it's never late to learn and get new knowledge and skills. The lectures and workshops on winemaking, their format was very informative and educational.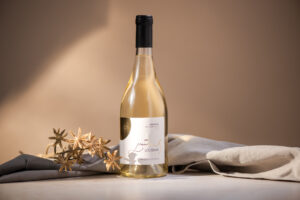 "I always try to keep up with the trends and get new knowledge and learn. Despite their young age the lecturers were very competent and experienced. I enjoyed learning from them. Visits to wineries were especially useful for us in terms of gaining knowledge", says Sarkis.
Sarkis used the acquired knowledge in the second phase by producing his own wine. It's a white dry wine from Kangun grape variety.
"It's a very pleasant, light and tasty wine. Unlike the red, white wine shouldn't be preserved for long – maximum 6 months to 1 year. It should be quickly consumed. The wine is delicious, I am impressed", says Sarkis with pride.
Sarkis decided to dedicate his first wine to his wife calling it "Lusnak" (edit. – "lusnak" meaning "full moon" in Armenian). The label features a yellow, sparkling full moon.
"As the full moon is also called Lusnak (edit. – in Armenian) I decided to have a big full moon on the label which also goes well with the wine title", explains Sarkis.
The first batch – 500 bottles – will soon be out on the market. The winemaker is going to order a new batch from the revenue – already 800 bottles. He notes that his goal is to increase the batch by 300-400 bottles each year. "If the wine becomes popular, I will also try to produce red wine", notes Sarkis.
However, these are not the only goals. Sarkis also wants to buy a new land, grow grapes and produce wine.
"When we had a vineyard with friends, we had problems selling the grapes each year – sometimes the factories wouldn't accept it, or some other problems could emerge. I always thought that one should cultivate and sell the products grown by himself so as not to be dependent on others", he says. Nowadays, he continues his job of renovating houses, simultaneously trying to establish himself in the wine sector and market. "A new business is like a child. It takes time and resources to raise and grow it…I want to develop my business slowly but steadily as Armenia is a small market. We need to be patient and move forward with patience. I don't have high hopes of having my position in the market in the upcoming 2 years. However, in 5 years my business should already be quite successful", says Sarkis.