Lusine Vardanyan
Imagine a farmer, having large number of cattle on his farm, keeping them outdoors, in an open area of around 100 hectares. It is necessary to watch over, keep track of the animals.
Or just imagine that one has a large garden, and it is necessary to track which part of the crops is already ripe.
Armenian startup Manot offers solutions to these agricultural problems. Manot is an automated image annotation tool for tiny objects which allows to facilitate and simplify the initial stage of the works in agriculture. The company annotates mostly the aerial imagery captured by drones.
The main focus of production is agriculture, however, services for other industries can also be provided if necessary. Annotation tools have long been used worldwide. In Armenia, however this is a novelty.
"Annotation means detecting the objects that are of interest to you in an image. The task is becoming more challenging when one has to deal with the data collected from drones, which means that the objects, such as a car, an animal, a construction are really tiny", says Chinar Movsisyan, the CEO and founder of the company.
26 years old Chinar, has founded the company with her two friends, Lida Alexanyan and Sofya Torosyan, and later Astghik Mkrthcyan joined them. All of them are mathematicians.
Chinar Movsisyan has studied at Yerevan State University, Faculty of Informatics and Applied Mathematics, and University of Grenoble in France. Now she is teaching computer science and machine learning, and she is also a PhD student.
"This is a profession which covers all areas. It is really rewarding, when you realize, that being a mathematician, you are engaged in an activity, which is applied in agriculture, urban development, medicine. So I am not involved only in math", says Chinar.
Manot was founded in late 2020. In June 2021, they applied to the Armenian Startup Academy Pre-Acceleration programme, receiving a grant within the frame of the EU4Business "Innovative Tourism and Technology Development for Armenia (ITTD)" project implemented by GIZ. The team of three has already grown to 11. As Chinar has mentioned, very few are the startups, which succeed in receiving a grant in such a short time after their establishment. The first grant received by Manot has contributed to the growth of the number of their clients.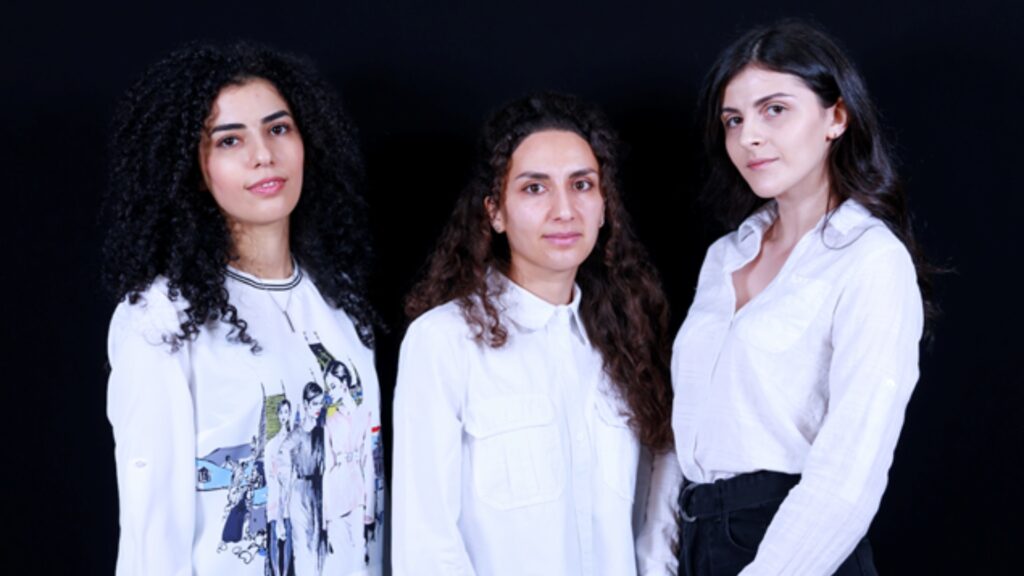 Chinar emphasizes that Manot is still a startup and needs to be "approved" by the clients. According to her, the "brainpower" of the startup is already there. It is necessary to organize the demo part, to enter the market and attract investments. They are planning to expand the product range offered further and create new services.
"It is hard to manage the whole workload. There may be a view, that with the team growing it should be easier to run the business, but it is just the opposite: the more people are engaged, the bigger is the responsibility. It is necessary to be in contact with the whole team, check the progress, find out what are their needs"- says Chinar.
Chinar has almost no day-offs, but she has never been dubious of what she is doing. There are three principles that the team adheres to: trust, transparency and brainpower.
"By the end of the week I am looking back at what was done, and I see that it was good and useful for people", she says.
Chinar believes, that Armenia has a full potential to become one of the developed IT countries. She underscores the fact that the company was established by women, mentioning that the discrimination of women in the field is over, since half of those engaged in the industry are women.
The EU4Business "Innovative Tourism and Technology Development for Armenia (ITTD)'' project is ongoing in Armenia. It has an overall objective to ensure shared and balanced inclusive growth in tourism and innovative industries. This will be achieved through innovative tourism ventures in the Northern regions of Armenia, support to high-tech and innovative entrepreneurs, international knowledge exchange for high-tech researchers as well as networks to enable entrepreneurship culture for students and the general population.
Within the framework of the project, more than 100 ventures have already been supported, assistance has been provided in sustaining and/or creating 400 jobs, and more than 800 people have undergone various trainings.