I go to places taking others with me: the TV program "Come with me" has been produced in 2020, during the coronovirus to allow people to travel. According to the Project Coordinator Sona Margaryan, they have made an attempt to create a format that never existed anywhere in the world. With her background in media and documentaries, Sona had no previous experience in producing any adventure/travel program.
During the program "Come with me", the host is streaming live from a specific location and allows the viewers to have direct impact on the course of events of the program. The viewers can give assignments to the host, who should perform those.
"If the host is, for example, in Gyumri, and I sit at home watching him going around in Gyumri, I can tell him: "You know, all my life I dreamt about going and seeing that very phaeton (carriage), would you please go to see it,"" – explains Sona adding that this is how they make sure it is interactive.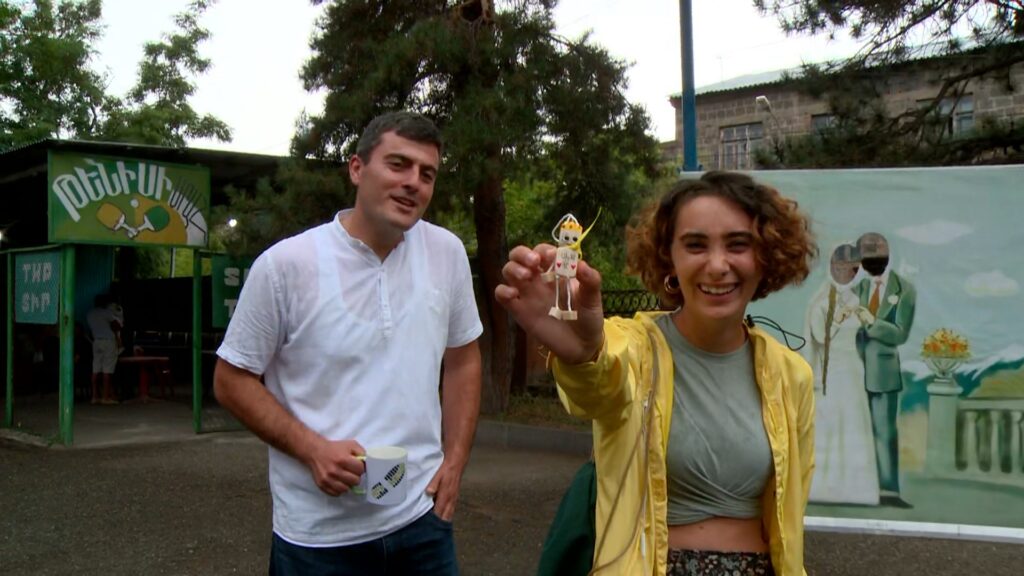 The TV programs have been funded through the EU4Business "Innovative Tourism and Technology Development for Armenia (ITTD)" project implemented by GIZ. The war that was unleashed in September pushed the program further to August 2021.
Sona goes on saying that live broadcast is preceded by a painstaking preparatory and research work, polishing all technicalities to minute details, to understand issues related to connectivity, etc. Three parts – Gyumri, Haghartsin and Dsegh are now available.
First part has been shot in Gyumri. Tsovinar Hakobyan, the hostess, had a list of all locations from "HayFilm" films, which she had to locate while communicating with the viewers and doing their request-assignments. This was her first ever attempt of acting as a host.
"No matter how much people think of me as a hyper-active person; I am still one of those who lives inside her comfort zone. That's what I was trying to overcome, and the best way to do it was to get into that skin. In that very period I made up my mind to say yes to absolutely anything", recalls Tsovinar.
Another difficulty Tsovinar faced was that they did not find any prototype TV program even with remote likeness, which could be used as an example. She stated that the viewers' involvement eased their job greatly since it communicated naturalness to it.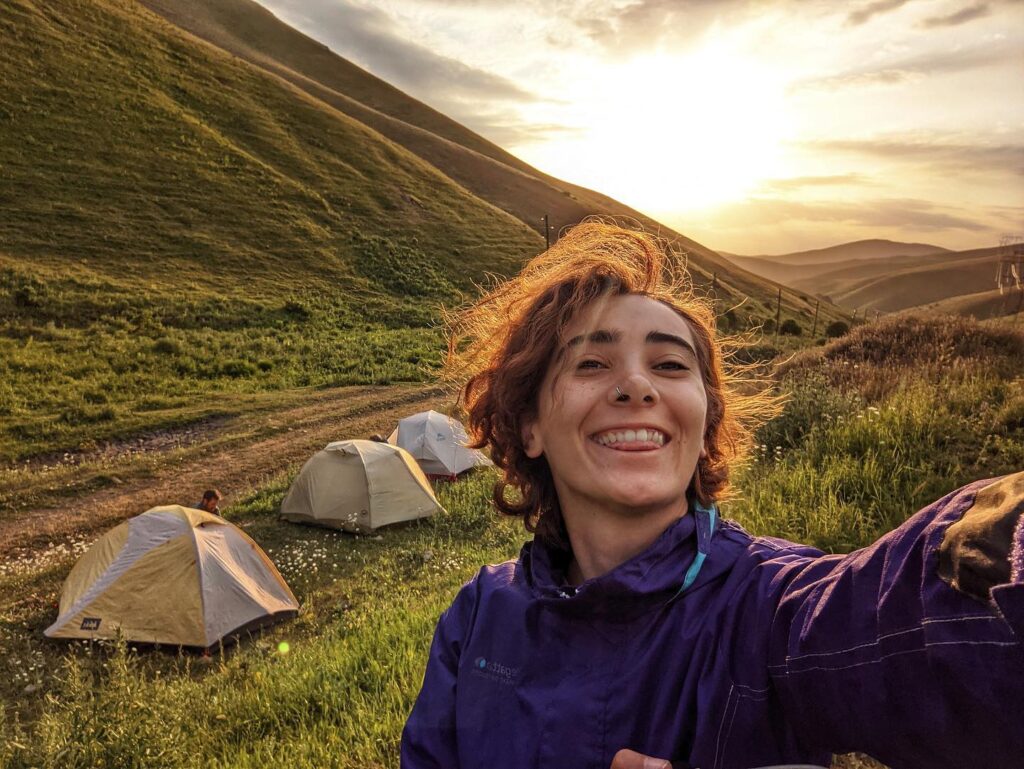 Looking back, Sona and Tsovinar recall funny episodes, for example, when it started raining during the live streaming, or one of the viewer's assignment for Tsovinar was to dance tango with a stranger in Gyumri.
UI/UX designer by profession, Tsovinar enjoys her involvement in "Come with me" also due to her long-time fondness for travelling and hiking. She confirms this has been there for as long as she can remember herself.
"The fun part of it is when you put yourself into a trouble and start to like yourself more after walking for 30 minutes. You get to appreciate yourself, your capacities, and your own expectations from yourself," – explains Tsovinar.
Live streaming take place on Facebook and Zoom platforms, later on they are posted also on Instagram and Youtube. Sona mentions that they are trying to present the TV program to the private sector and TV companies.
"With these program as a basis, we are working on lifting it to the level where it becomes an independent unit and starts growing," – says Sona.
Sona thinks that Armenia has a high tourism potential with its nature and weather diversity, cultural monuments etc., yet both the state and the private sector need to work harder than ever.
——–
The EU4Business "Innovative Tourism and Technology Development for Armenia (ITTD)'' project is co-funded by the European Union and the Federal Ministry for Economic Cooperation and Development (BMZ) and implemented by German Development Cooperation (GIZ).
The aim of the project is to ensure shared and balanced inclusive growth in tourism and innovative industries. This will be achieved through innovative tourism ventures in the Northern regions of Armenia, support to high-tech and innovative entrepreneurs, international knowledge exchange for high-tech researchers as well as networks to enable entrepreneurship culture for students and the general population.
Within the framework of the project, more than 100 ventures have already been supported, assistance has been provided in sustaining and/or creating 400 jobs, and more than 800 people have undergone various trainings.