By Hovhannes Nazaretyan
This is the first of what will be a weekly series by #CivilNetCheck – an initiative that will look at the week's fake news and dubious claims – circulating in Armenia (and about Armenia).
Aliyev's false claim about the population of Artsakh
On January 12, Azerbaijani President Ilham Aliyev claimed in an interview to the local media that only 27,000 people live in Nagorno Karabakh. "It is estimated that 27,000 people now live in the area controlled by Russian peacekeepers", he said. He has previously claimed a slightly lower number of Armenians have remained in Nagorno-Karabakh after the 2020 war. "The actual number of residents there [in Karabakh] is 25,000", he told the state TV last July. He claimed Azerbaijan has "various technical means", including satellite data, to gather information about Karabakh's population.
According to both Artsakh authorities and Russian peacekeepers, some 120,000 people live in Artsakh. In November 2021, Russia's Defense Ministry stated that since the November 2020 ceasefire Russian peacekeepers have facilitated the safe return of over 52,000 refugees to their homes, while noting that Karabakh's total population is just over 120,000. This number has also been cited by several officials of Artsakh, including President Arayik Harutyunyan, State Minister Artak Beglaryan, and Social Affairs Minister Mane Tandilyan.
Aliyev's false claim about killed Armenian soldiers
Talking about the January 11 violence in Gegharkunik, Aliyev claimed that 6-8 Armenian servicemen were killed and "many" were wounded. However, according to Armenia's Ministry of Defense three Armenian soldiers were killed and two were wounded in the clashes. Unlike Azerbaijan, an authoritarian state with heavily restricted freedom of speech, in Armenia, the number of military personnel killed can hardly be kept a secret.
Aliyev's false claim about Karabakh's Armenian heritage
In his recent interview Aliyev also claimed that Armenian churches and cemeteries are safe under Azerbaijani control. "Everything is safe in the villages under our control now, I mean the villages [previously] inhabited by Armenians. […] No tombstones were broken, no churches were destroyed", he said.
Since the war, the Azerbaijani military has targeted Armenian monuments all over Artsakh. A number of Armenian churches, cemeteries, khachkars (cross stones) and other monuments have been destroyed, damaged or vandalized. This has been confirmed by journalists and scholars monitoring the state of the monuments of Artsakh, including Caucasus Heritage Watch (CHW), a research initiative led by archeologists at Cornell and Purdue Universities and Monument Watch, an independent academic platform.
Azerbaijan won't partake in CSTO drills
A number of Armenian outlets claimed on January 6 that this year Azerbaijan will participate in two military exercises of the Collective Security Treaty Organization (CSTO), the Russian-led alliance where Armenia is a member. The exercises are called Unbreakable Brotherhood and International Army Games. The outlets cited Sputnik Azerbaijan and Azerbaijan's Defense Ministry.
#CivilNetCheck found that neither source confirmed the claim. In fact, Sputnik Azerbaijan explicitly stated that the Unbreakable Brotherhood is a joint exercise with Turkey and not with the CSTO. The CSTO does hold annual exercises with the same name, but it is exclusively for its member states, which Azerbaijan is not.
As for International Army Games, it is not organized by the CSTO, but Russia's Defense Ministry. Azerbaijan has regularly participated in the games, which have come to include several dozen countries since their inception in 2015.
Netflix series didn't depict a historical map of Armenia
On January 10 many leading Armenian outlets wrote that a Netflix series showed a historical map of Armenia that included parts of what is now eastern Turkey. The outlets further claimed that it caused an uproar in Turkey, but only one news website had covered the "controversy."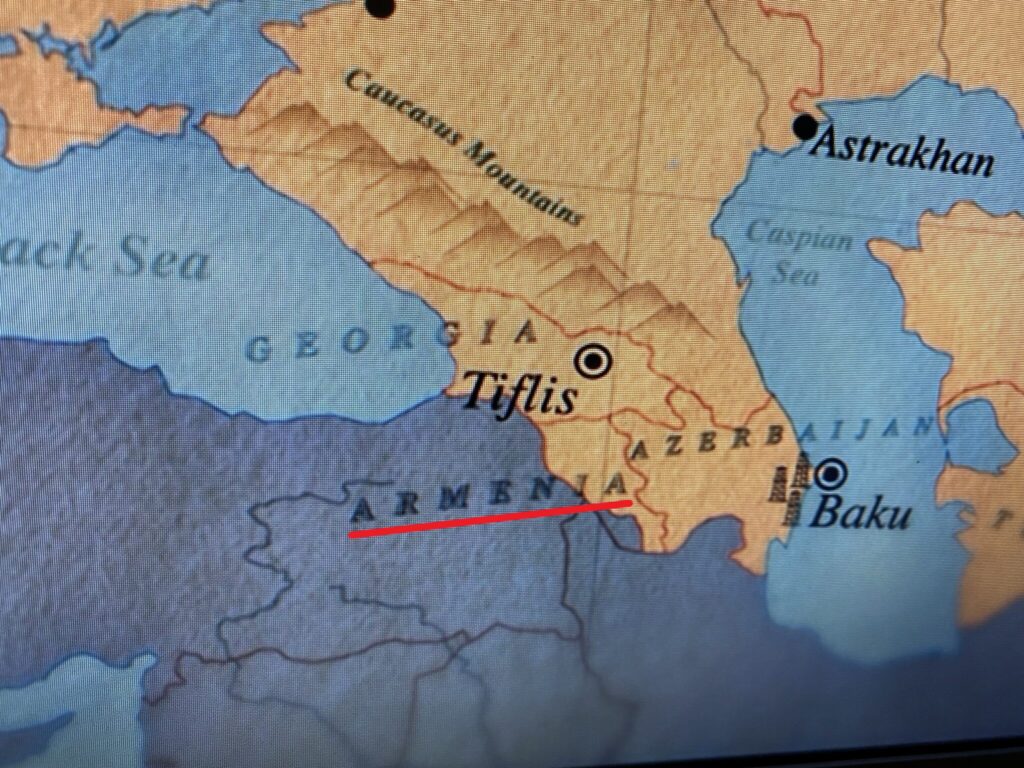 The map in question is from an episode on the Battle of Stalingrad from a 2019 Netflix series called "Greatest Events of WWII in Colour". #CivilNetCheck found that despite the widely circulated claim, it does not show Armenia within its historic borders. It simply shows (Soviet) Armenia is the same borders as it was during World War II and remains largely the same today.
The confusion and misinterpretation came from the fact that because Armenia's territory is small, most of the word "Armenia" is placed on the eastern parts of Turkey. Similarly, most of the words "Georgia" and "Azerbaijan" are placed over the Black and Caspian Seas.
Azerbaijani outpost destroyed inside Armenian territory
On January 11 violence or an attack near the village of Verin Shorzha in Armenia's eastern Gegharkunik province resulted in the death of three Armenian soldiers. The next day, a video was posted online reportedly showing an Azerbaijani outpost up in flames after an apparent attack by Armenian forces. #CivilNetCheck geolocated the outpost at 2.4 km (1.5 mi) inside Armenian territory, which was invaded and occupied last May, when hundreds of Azerbaijani troops crossed the border into Gegharkunik and the southern province of Syunik.
Turkey hasn't appointed a special envoy 'in Armenia'
On January 12 some outlets wrote that Turkish President Recep Tayyip Erdoğan had appointed Serdar Kılıç as a Special Representative/Envoy to [in] Armenia. The implication was that he is more than an envoy for the normalization of ties with Armenia. A headline read: "Wording of Serdar Kilic's position hardly accidental".
In fact, as #CivilNetCheck found, Erdoğan's January 10 decree states that Kılıç has been appointed the Special Representative of the Turkish Republic to [with] Armenia. It was reported in mid-December that Kılıç would be Turkey's special envoy for normalization talks with Armenia.