By Mark Dovich
Protesters calling for the resignation of Armenian Prime Minister Nikol Pashinyan continued gathering across Armenia on Thursday for a fourth consecutive day of demonstrations, as Yerevan gears up for an opposition rally on Sunday.
"Every day we will be organizing various protests, marches, and demonstrations in Yerevan," announced Ishkhan Saghatelyan, an opposition lawmaker and the parliament's vice president. "Our goal is to get our people all over Armenia to rise up over the next five days."
The opposition plans to hold a "large" rally in downtown Yerevan on Sunday, Saghatelyan added, meant to be the culmination of a week of what it has termed "decentralized" protests.
The demonstrations come largely in response to a controversial speech Pashinyan gave to parliament earlier this month that many in Armenia interpreted as an indication of his willingness to cede control over Karabakh to Azerbaijan in ongoing peace efforts.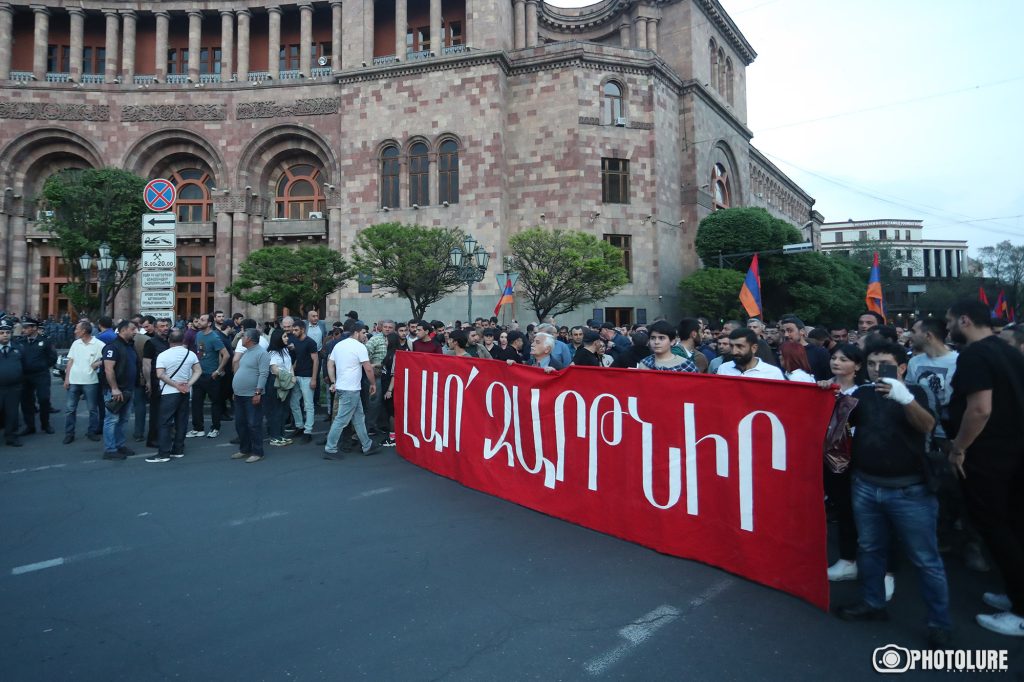 The speech caused widespread outrage both in Armenia and in Karabakh, prompting the unrecognized republic's parliament to issue an extraordinary, unanimous rebuke of Pashinyan's "catastrophic position."
On Tuesday evening, a police car accompanying Pashinyan's motorcade fatally struck a pregnant woman in downtown Yerevan, generating even more fury against the prime minister on social media. Pashinyan has so far refused to comment publicly on the accident.
Since Monday, Yerevan has seen a number of protests and acts of civil disobedience, much of which has been organized by the Armenia Alliance and the I Have Honor Alliance, the two opposition parties with representation in parliament.
Some of the demonstrators have been driving around in cars rigged with loudspeakers blaring messages like "Stop Nikol" and "Nikol is a traitor." Other protesters have been marching under banners with a slogan that can roughly be translated as "Wake up, son," a reference to a popular Armenian revolutionary folk song.
Over the past few days, demonstrators have attempted to block major roads in Yerevan, including Liberty Avenue and Komitas Avenue in the north of the city. There have been over 50 arrests made so far, according to the police. Opposition leaders have accused the police of using excessive force in detaining protesters.
Other protest groups have begun marching toward the capital from various towns, aiming to arrive in Yerevan in time for a large opposition rally slated for Sunday. The four starting points — Ijevan, Tigranashen, Sardarapat, and Aparan — are all steeped in political and historical symbolism.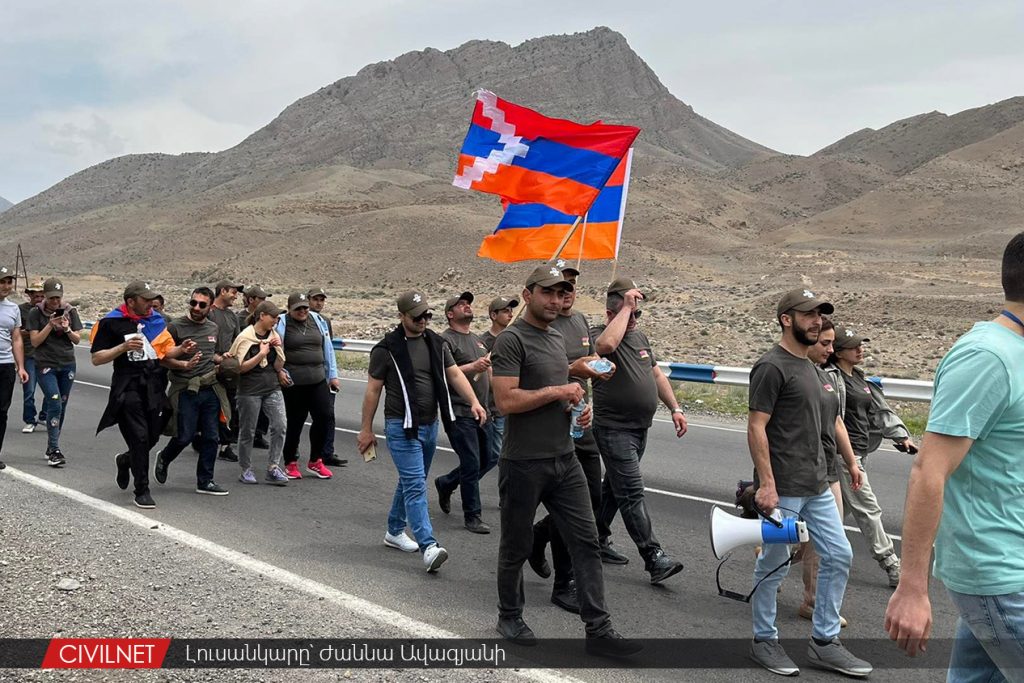 Ijevan is Pashinyan's hometown, while Tigranashen (also known as Karki in Azerbaijan) is one of three Soviet Azerbaijani exclaves located entirely within Armenian territory. Sardarapat and Aparan are both sites of key World War I battles where Armenian fighters scored decisive defeats over Ottoman forces.
"Spirits are high because we are fighting for an idea, and that unity will lead us to victory," said Anna Grigoryan, an opposition lawmaker leading the march from Tigranashen.
Meanwhile, Artur Vanetsyan, another opposition leader in Armenia's parliament, continues to hold an indefinite sit-in at Freedom Square in downtown Yerevan, which began about a week and a half ago.
"The so-called 'authorities' have entered the last stage of the destruction of our state and statehood. We have no time to delay," Vanetsyan said in a statement at the start of the sit-in. "There is a way to stop this destructive cycle: Armenians must wake up and become one fist again."
Before joining the opposition, Vanetsyan was a close ally of Pashinyan and played a key role in his administration, leading the National Security Service from 2018 to 2019. Vanetsyan then resigned from his post in circumstances that remain murky.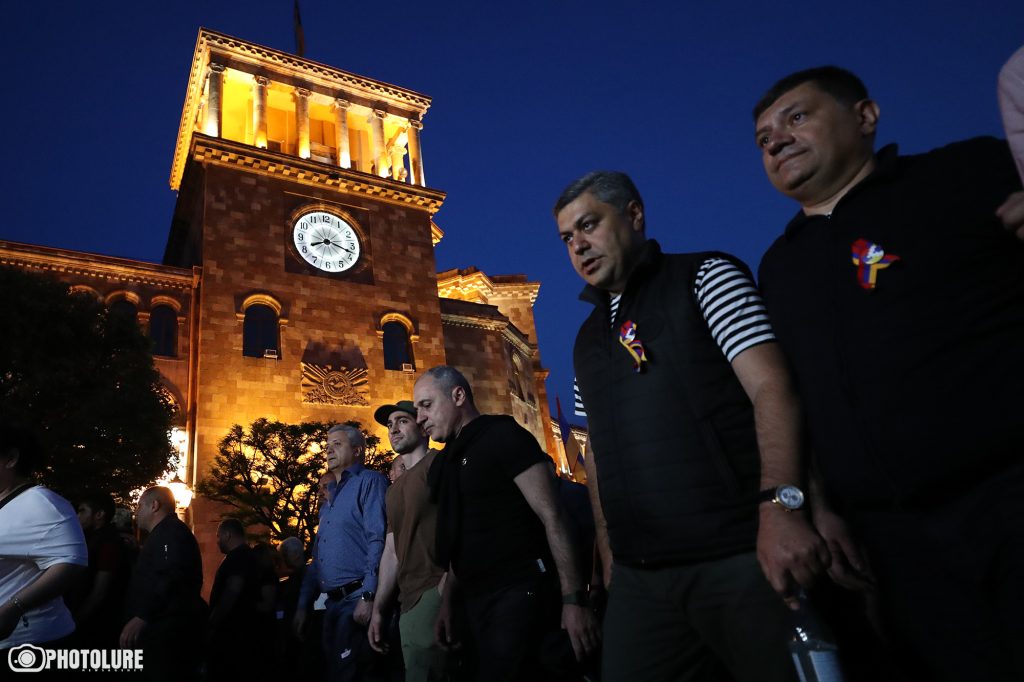 He has received public support for his sit-in from a number of other former Pashinyan allies, including Ara Ayvazyan, who served as foreign minister in the immediate aftermath of the 2020 war in and around Karabakh. He lasted less than half a year in office.
Separately, the parents and relatives of soldiers killed during the 2020 war have been gathering in front of various government buildings, demanding to file a criminal suit against Pashinyan on charges of allowing "mass murder," a reference to the prime minister's role in leading Armenia to a disastrous defeat to Azerbaijan.
The six-week conflict left over 3,800 Armenian soldiers dead, many of them young conscripts. For a small country like Armenia, it effectively amounts to a lost generation.
Prosecutor General Artur Davtyan has said his office is reviewing the filing.