By Mark Dovich
Demonstrators demanding the resignation of Armenian Prime Minister Nikol Pashinyan blocked over a dozen major roads across Yerevan Monday morning, snarling traffic in an escalation of a weeklong protest movement. Nearly 200 protesters have been detained so far for acts of civil disobedience, the police said late Monday morning.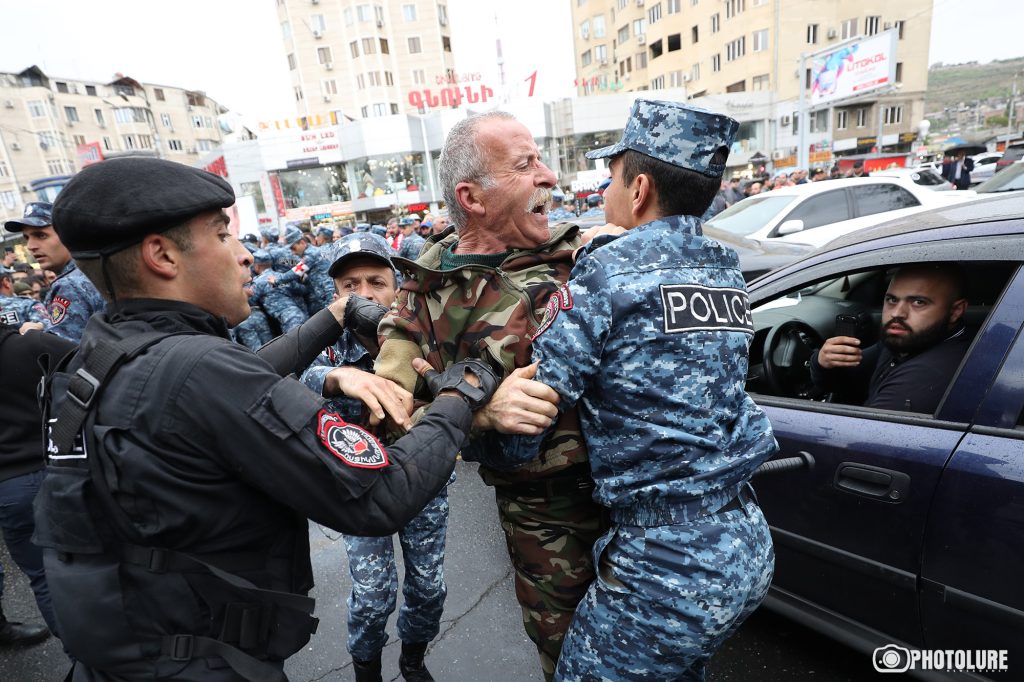 The demonstrators, who have dubbed themselves the Resistance Movement, also announced Monday they would be setting up tents at France Square, a major intersection in central Yerevan, for an indefinite sit-in. In addition, they called on employees to strike and university students not to attend classes.
The day before, France Square saw several thousand protesters gather for a major rally, largely organized by the Armenia Alliance and the I Have Honor Alliance, the two opposition parties with representation in parliament.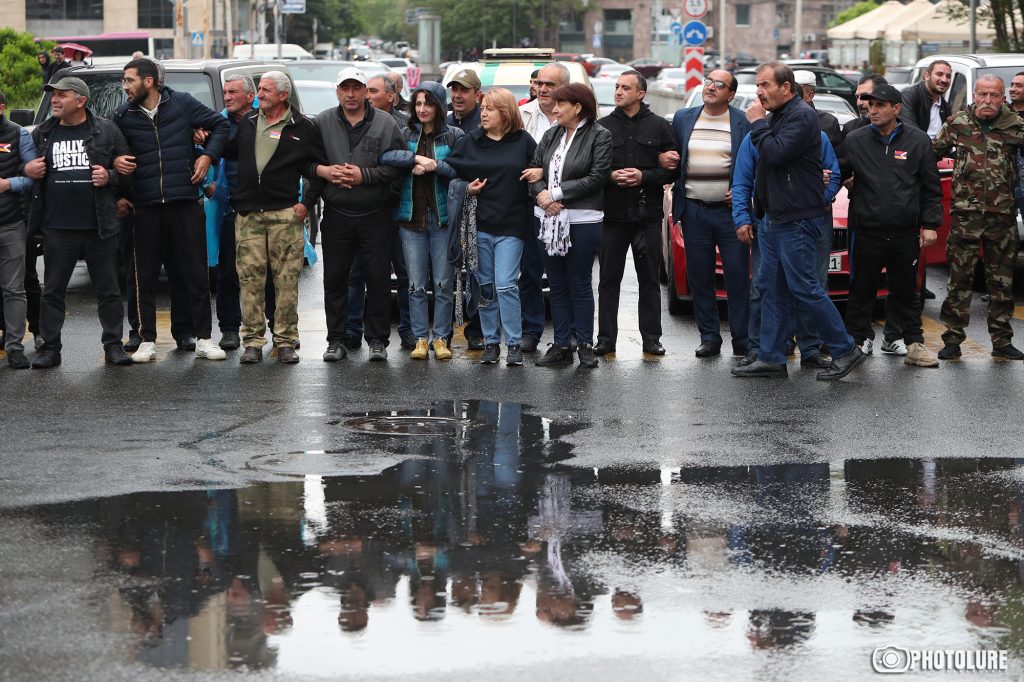 About 12,500 people took part in the demonstration, according to the Union of Informed Citizens, a well-known civil society group. The rally took place without incident or violence.
The surge in protest activity across Armenia comes in response to a controversial speech Pashinyan gave to parliament earlier this month that many in Armenia interpreted as an indication of his willingness to cede control over Karabakh to Azerbaijan in ongoing peace efforts.
The speech prompted widespread outrage both in Armenia and in Karabakh, leading the unrecognized republic's parliament to issue an extraordinary, unanimous rebuke of Pashinyan's "catastrophic position."
Thousands of protesters have since come out to the streets, preemptively rejecting any deal with Azerbaijan that would see ethnic Armenians lose control over Karabakh.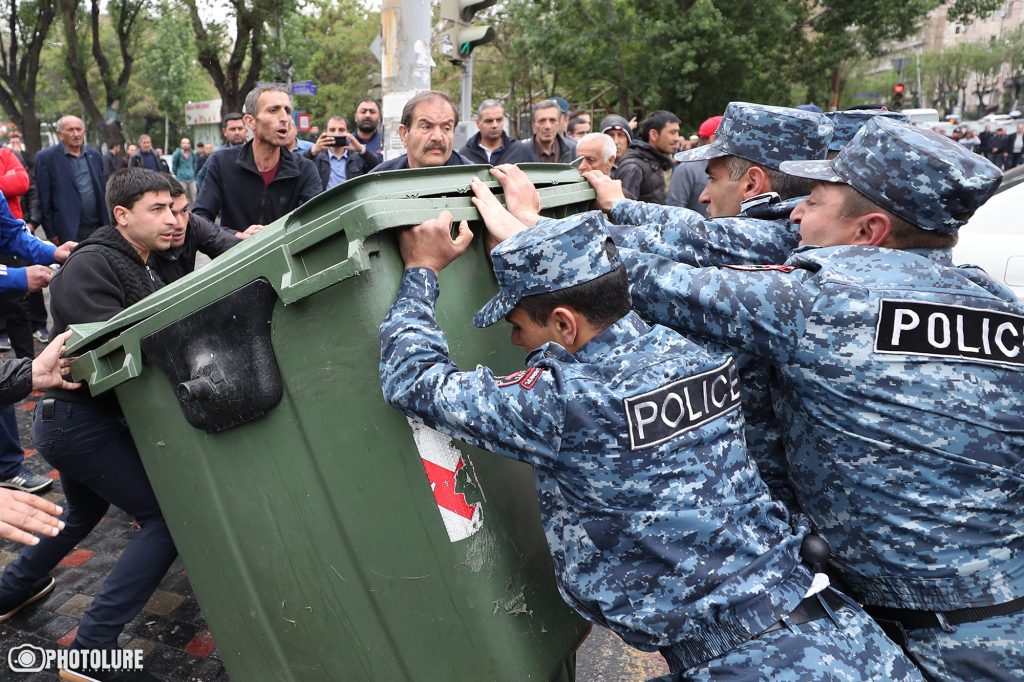 Numerous prominent opposition leaders spoke at Sunday's rally in downtown Yerevan, including Ishkhan Saghatelyan, an Armenia Alliance leader, and Artur Vanetsyan, who heads the I Have Honor Alliance.
"Nikol (Pashinyan) has no mandate to make concessions," said Saghatelyan in an address to the crowd. "The number one threat to the country is sitting in the government building."
"When the prime minister of the country said in the National Assembly that we should 'lower the bar on Karabakh,'" Vanetsyan said, "I realized that we have no right to stay at home. We have to go out and put an end to all this."
Aspram Krpeyan, an Armenia Alliance lawmaker and the daughter of the late Tatul Krpeyan, widely revered in Armenia for his leadership during the first Karabakh war in the early 1990s, also gave a speech, declaring that "there is no Artsakh (Karabakh) without Armenia, and there is no Armenia without Artsakh."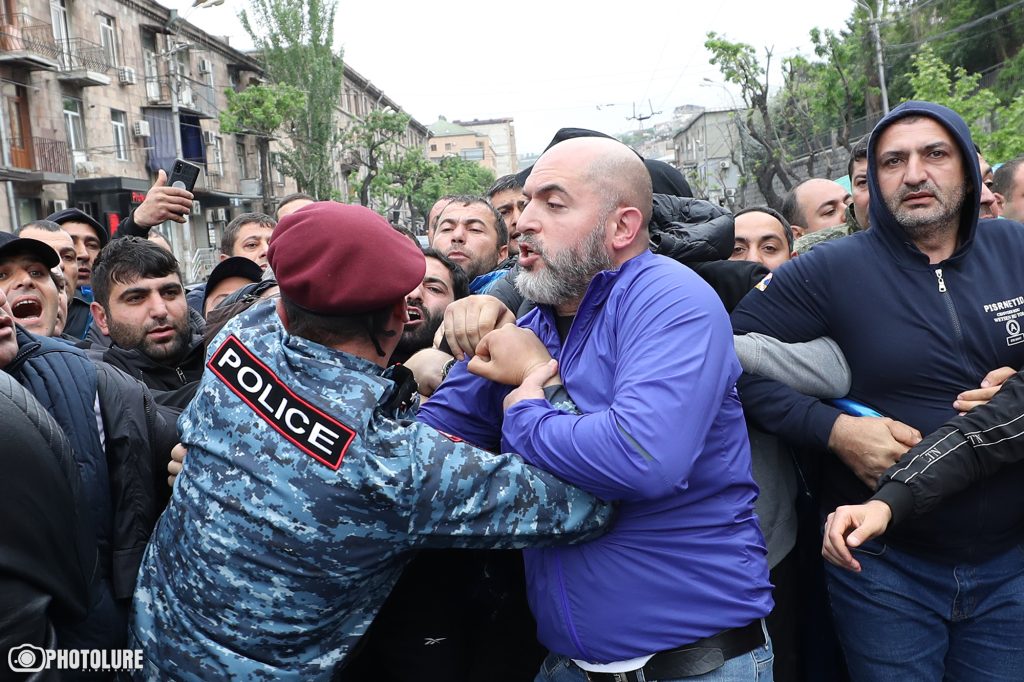 The crowd waved Armenian and Karabakhi flags, cried "Artsakh, Artsakh," and sang "Wake up, son," a popular Armenian revolutionary folk song. Chants of "Nikol is a traitor" and "Armenia without Nikol" were also heard.
Former President Robert Kocharyan, the de facto leader of the Armenia Alliance, attended the rally but did not deliver a speech, while former President Serzh Sargsyan, who co-founded the I Have Honor Alliance, came to France Square later in the evening.
Sunday's demonstration was meant to be the culmination of a week of "decentralized" opposition activities across the country, which included protests in Yerevan and marches on the capital from four towns, all chosen for symbolic purposes.