View from Akunk in Armenia's Gegharkunik region
By Mane Berikyan
The small village of Akunk in Armenia's eastern Gegharkunik region is known locally as the main source of water for the nearby town of Vardenis. Its name, after all, means "source" in Armenian.
But for visitors and passersby driving through the village of about 4,300 people, there is something else about Akunk that stands out: The majority of houses have solar energy devices on their roofs.
Solar energy projects are not new to Armenia or the Gegharkunik region. Mets Masrik, another village just north of Vardenis, is set to become the site of the country's largest utility-scale solar power plant, once construction is completed.
Also read (in Armenian): "Masrik-1" solar station enters construction phase three years later
Such initiatives are often funded, at least in part, by international financial institutions and outside organizations looking to introduce sustainable energy alternatives to Armenia. The Mets Masrik project, for instance, has received loans from the World Bank and European Union, while the Tufenkian Foundation, a U.S.-based charity that operates in Armenia, has supported a similar program in the nearby village of Tsapatagh.
The case of Akunk, however, is remarkably local.
Over time, villagers made the switch to solar power to heat their water on their own accord, and with their own money. Although a number of other villages in Armenia have made similar moves in recent years, they are few and far between.
Solar water heaters, usually placed on the rooftop, warm water by converting solar radiation into usable heat energy. Arpi Solar and Shtigen Energy Systems, two local companies, supply Akunk with most of its solar water heaters.
Most households in Armenia still use natural gas to heat their water. Because fossil fuels like natural gas cause harmful carbon dioxide emissions that contribute to climate change, the switch to solar power has clear environmental benefits, as well.
The initial price for a solar-powered water heating unit is quite steep, at about 450,000 drams (roughly $1,000). However, Akunk residents say it pays for itself in the long run, particularly for large families with high household water usage.
Akunk resident Aram Avagyan told a CivilNet reporter who visited the village earlier this month that installing a solar unit has cut his family's monthly energy gas bill in half. "If before we paid 25,000-30,000 drams ($61-$73) for gas, now we pay half of that," he said.
Avagyan's family was the second household in the village to install a solar water heating unit. Avagyan decided to make the switch for his family several years ago, when his neighbors installed a unit of their own.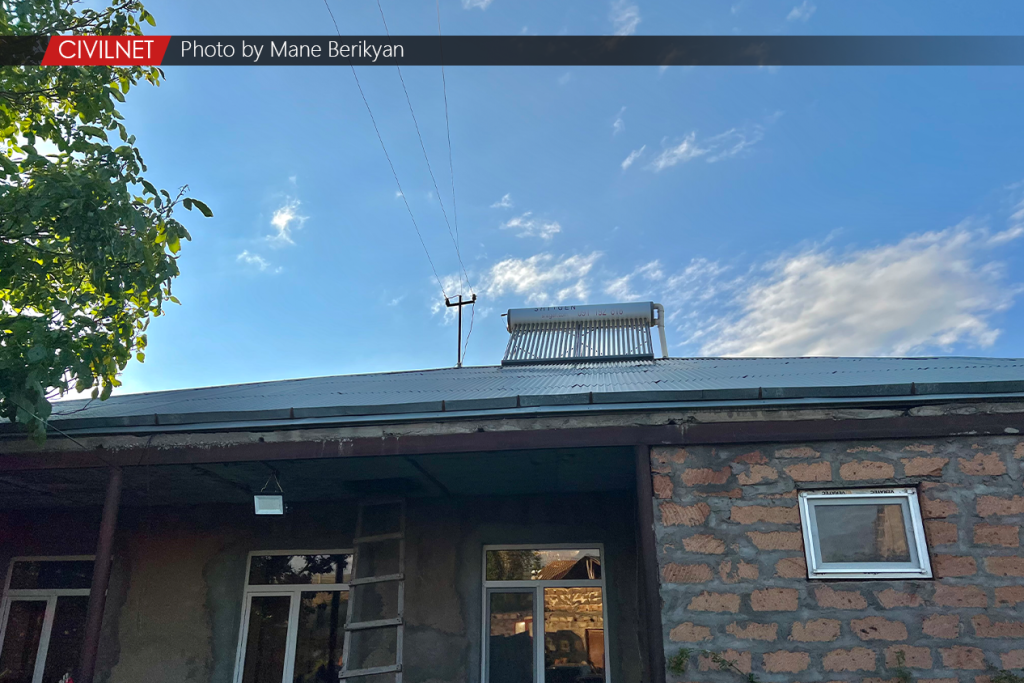 "We save thanks to the solar heating system. It's worth it," he said. "Even when there's no electricity, we have hot water."
Families in Akunk often pay for their solar heaters in monthly installments over time. During that time, their units are covered under warranty. When the Avagyans' unit was damaged by lightning, for instance, the company that installed it quickly came for repairs.
Even though every Akunk resident CivilNet spoke to expressed satisfaction with their units, several of them also stressed that investing in solar water heaters only makes economic sense for bigger families, who tend to spend more on gas.
"If the solar device was more affordable, it would be available to more people," said Akunk resident Irina Martirosyan. "Therefore, it would be useful if they found a more affordable alternative."
Still, those who choose to make the switch say installing a solar unit has been a good financial decision for their families.
As one Akunk resident, Nelli Hakobyan, said: "You save money, and you always have hot water."
Also watch:Armenia's Largest Solar Power Station Comes to Life Near Lake Sevan