Lusine Vardanyan
From October 1, the first mountain bike park in Armenia-Boo Mountain Park is functioning in Vanadzor. It has been established by Emma Petrosyan and Vaghinak Karapetyan, who have been working on the project since 2017. The launch of the project was delayed due to the COVID-19 pandemic and the armed hostilities.
"We have created a beautiful place, where not only cyclers, but also ordinary people come. A very beautiful view of the city opens. We have built a cafe on the mountain in the forest. We expect that cycling will develop in Armenia both as a popular sport and a form of tourism," says Emma Petrosyan, the author of the project.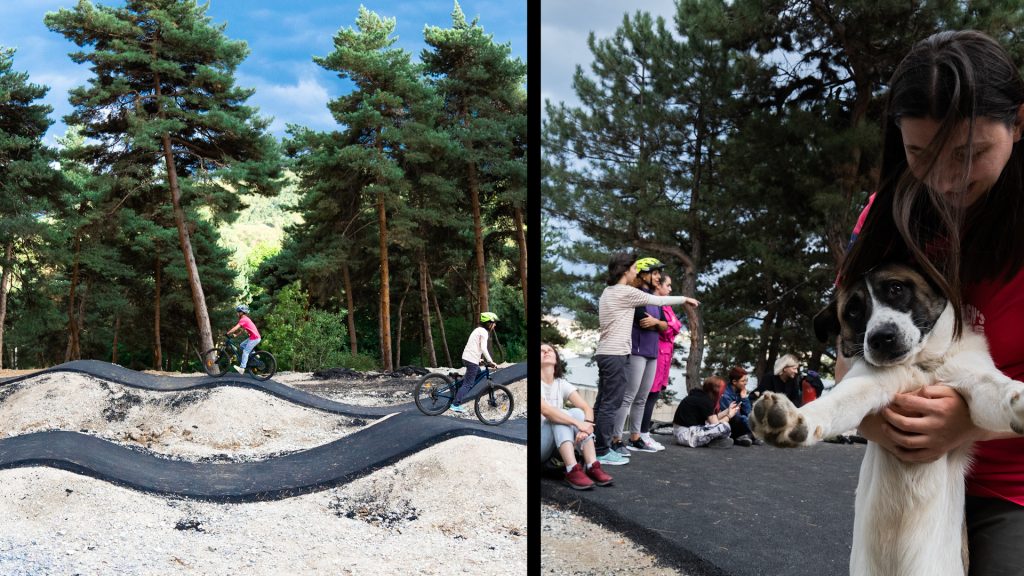 "There are bike trails of various difficulty in Boo Mountain Park, bicycle pump track, a special mountain trail which is the first one in the region. Тhese trails are available for free, if the visitors have a bicycle and a helmet with them. There is also a bicycle rent and café which is open on weekends and these initiatives ensure the financial sustainability."
"It is very important to make the initiative sustainable. We cannot rely constantly on donors. Тhe program may be lost thus, which will be a pity. So, we thought of having a commercial component- а café and а bike rent. We are also organizing guided tours".
The project is funded also through the grant from the EU4Business "Innovative Tourism and
Technology Development for Armenia" Project, which is co-financed by the European Union and the Federal Ministry for Economic Cooperation and Development (BMZ) and it is implemented by GIZ. Among other supporters of BOO Mountain Bike park are Development Principles NGO, UNDP GEF, Embassy of Switherland in Armenia, Ecohub Foundation,Municipality of Vanadzor and Ministry of Sports of RA.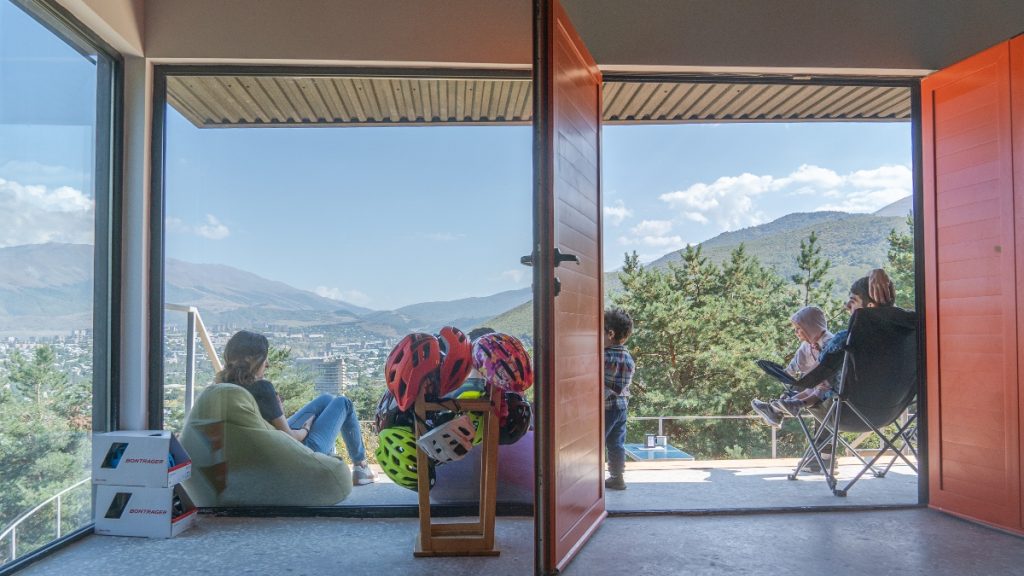 While living in Yerevan, Emma often used to ride bicycle outside the city. Mountain biking was a life-changing experience for her. She was fascinated by the idea of riding a bicycle off the asphalt pavement- in forests and mountains. This is how the idea of having such a place has emerged. Besides, Emma mentioned also that she was tired of living in Yerevan and she was thinking of moving to a province and implementing an initiative of her own.
She emphasized that the biggest challenge was to work amid COVID-19 pandemic and the armed hostilities. There were number of difficulties starting from document processing and procurement of mountain bikes, finding a bicycle fitter, cooperating with the government, international organizations and an unknown community.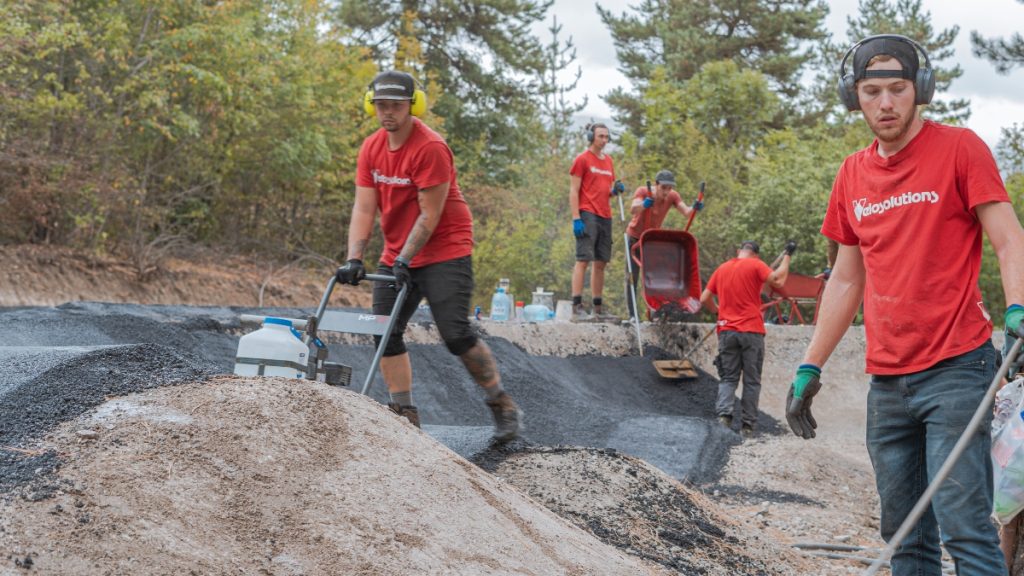 The Park has become a place of fun and recreation not only for cyclers but also for the people living in the town. As Emma told, all that was new and a bit surprising for them.
"Kind of a small community is emerging around the whole initiative with the involvement of the locals. However the interest from Yerevan and the tourists is still higher" she says.
Emma and Vaghinak are not from Vanadzor. They were living in Yerevan, and appeared in Vanadzor by chance, realizing later the main advantages of the town, e.g. proximity to Georgia, connection with Dilijan and Stepanavan, the economic potential, availability of a railroad, which hopefully will become a high-speed rail, as a result of which there will be bigger flow of tourists.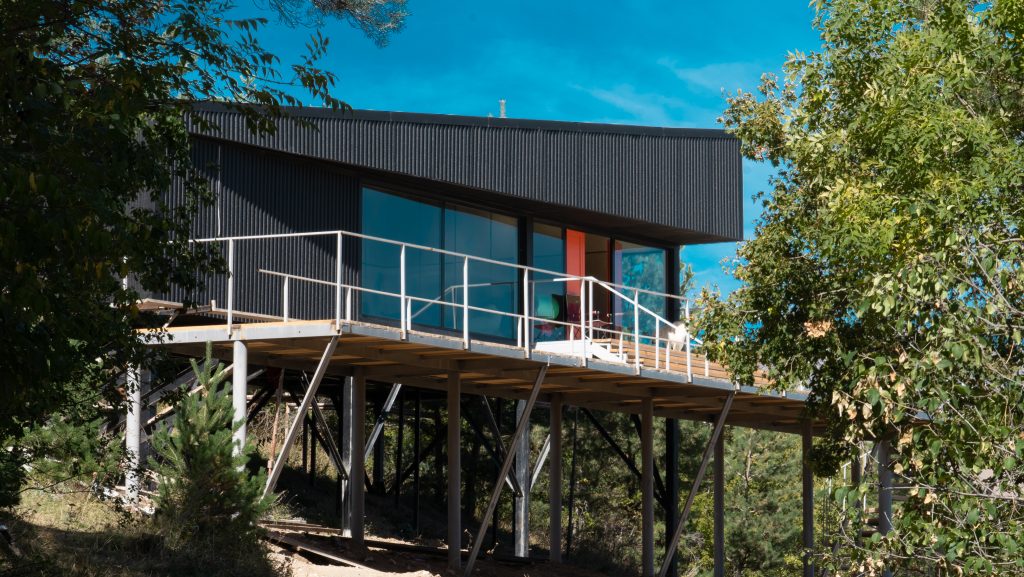 "The potential of Vanadzor is unique, since it is a post-soviet industrial town, which is of interest to people, who are fond of factories, ghost-towns, history of the USSR, patchworks. And this potential is far from being fully tapped.
The second component is the possibility for forest and ecotourism. Though there has been widespread illegal logging in 1990-ies, however, the region has rich ecosystem, and it is very exciting just to walk around, ride a bicycle, go camping. The second highest peak of the Pambak Mountain Range, is here.
It is attractive also for business tourism, IT, since the housing is affordable here as compared to Yerevan, Gyumri and Dilijan", Emma provides details about the potential of Vanadzor
In the future it is planned to expand the Boo Mountain Park for 5 hectares, which will include a forest area, however, there is an issue related to the zoning of community and state-owned lands. Since there haven't been any projects implemented here before, there are difficulties in the processing of documents.
Currently, there is a wish to cooperate with the cycling clubs from Yerevan. Emma has invited everyone to the Bike Park to test it and promote the domestic tourism through joint efforts.
"I wish I were not alone in this. It's a bit difficult to bring people from Yerevan without any help," says Emma adding that they will not be closed during winter season, trying to keep the trails open and clean. And, for this they need volunteers who will help to shovel away the snow, having thus their contribution.