LARA SETRAKIAN
Founding President, APRI Armenia
My team at APRI Armenia decided to begin our fall conference in October with an offering: a new narrative of the Armenian nation today, crafted with the input of more than two dozen advisors from diverse backgrounds. We discussed and set down a new narrative, encapsulating the good and the bad, what we're doing and, importantly, where we go from here. With this article, I wanted to share some of the points we hold close to our hearts.
We are in yet another challenging time in history, but we will get through it together. There have been failures – failures to plan, failures to react. Failures to lead and defend. Failures to analyze and learn. There is a source of deep disappointment, fear, and grief. People are under incredible stress. They're not on their best behavior.
But we can, in fact, turn things around. We can pick ourselves up and make the best of what's ahead. It's not in our DNA, as Armenians, to give up. If it were we would have disappeared a long time ago. We can transcend the current challenges and come out stronger. But to do so we must use the best of our combined talents and our best, imaginative capabilities to find the way forward. We must keep our imaginations alive, with the ability to envision new possibilities, otherwise we won't see the next best move.
It requires self-leadership, the practice of intentionally influencing your thinking, feelings, and actions towards your objectives. Are you feeling down and overwhelmed by despair? Self-leadership requires you to become your own coach and lead yourself out of the darkness. Use whatever it takes – discussions with friends, professional support, music, philosophy, or nature – just take responsibility for finding something to hold on to and for pulling yourself up, so that you can actually stand up again and achieve your goals. If you want a better country and a better reality you first need to engineer a better mindset within yourself.
The Armenian people are capable of breakthrough ideas. We just need new models of action, leadership, and collaboration to use across our communities. We need to take the broken pieces of our nation and put them back together, as in the practice of kintsugi, the Japanese art of "Golden Repair." Kintsugi involves putting together broken pieces of pottery with gold-colored glue, so that the pot is even more beautiful when it comes back together. And you never forget the places where it was broken or what it took to put it together again.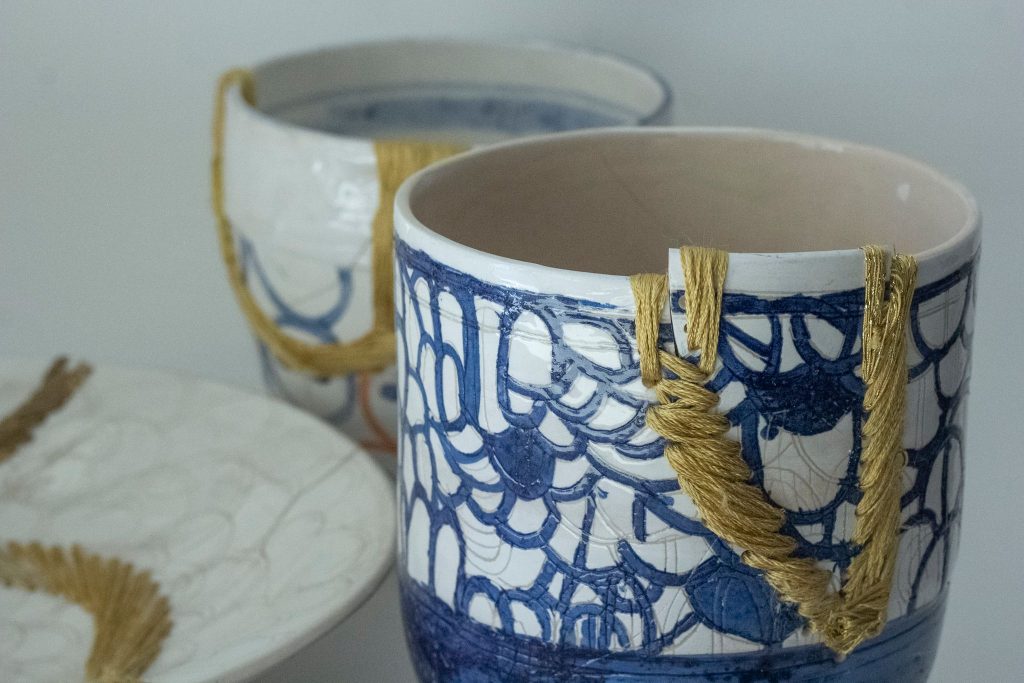 "Golden Thread" installation detail (2022, Anush Ghukasyan, clay, glaze, golden threads), commissioned by APRI Armenia and curated by AHA collective. The installation brings together the art of Armenian ceramics and embroidery with the Japanese philosophy of kintsugi
Can we build a country as we would a software company? How would we structure our national project if it were a company turnaround? As they say at technology startups, you transform by making 100 little 1% improvements. That adds up to 100% change for the better. Even long-term thinking and holistic, strategic planning can be approached in a structured way, making it possible to make progress one step at a time. This is the path to achievable and continual self-improvement, which is what it takes to survive and thrive in the world.
Let's think of ourselves as part of the "nation-building blockchain" – another powerful model of how to organize and maximize our contributions to the greater good. The blockchain is a sequential, value-added approach to solving problems. Each contribution from each person is a link in the chain that leads to greater progress. Everyone has a role to play.
The blockchain is not about one leader saving us all. It's about each individual's contributions coming together, with a basic level of mutual trust and common direction. It is a chain of collaboration with clear, defined roles and well-coordinated interactions – in other words, good protocols and management. It requires choosing a goal, finding the right partners, then setting about working to make progress.
What can you do to be part of the chain? Or to grow the chain that you're already in? To make the chain stronger? That's how we make progress and get somewhere.
We can also think of building a better future through the model of "smart teams." What are the features of smart teams? They are agile, fast-moving, creative, collaborative. They stay focused and on-mission. They are resilient, learning from mistakes, recovering from hits, getting stronger in failure and success, and learning from what the outside world has to teach us. Being a smart team involves having the mindset and the humility to constantly improve.
Another good way to think about this is to ask oneself: how can I be a good ancestor? How can we take the given situation and improve upon it significantly – not just to improve life for our children but to change our course completely, for the better, in a way that will be felt seven generations from now?
We need a new mindset, and many of us want a new mindset. More effective, more disciplined, more structured, more collaborative. Less negative, less involved in attacking each other. Less tearing down and more building up. This is what we need to be capable of effective change.
No one will save us. No one person, no one country. The future we want will come from our own effort to build something strong and lasting. We cannot be hampered by the past or haunted by our mistakes. We have to be empowered by the past. The past is not a cage, not a predetermined cycle of repeating events. The past is something from which you learn, using those lessons to guide the future.
Transformation is possible. Everyone can be part of the solution. And we all want to make things better. Embrace that truth and you will not only see the light at the end of the tunnel, you will move yourself and the whole nation closer toward it.
—
Lara Setrakian is the Founding President of APRI Armenia.
The Applied Policy Research Institute of Armenia (APRI Armenia) is a nonpartisan and independent think tank focused on advancing regional stability, sustainable prosperity and civic engagement in Armenia. Their programs and initiatives are oriented toward concrete problem-solving, addressing key challenges for the near-term and long-term realization of Armenia's potential. Launched over the summer, APRI Armenia is founded by the Armenian General Benevolent Union (AGBU), a trusted name in Armenian philanthropy for more than 115 years. APRI Armenia brings together a network of experts and advisors from around the world for constructive dialogues and research initiatives.
On 6 October, as part of the AGBU General Assembly, APRI Armenia organized their first Fall Meeting, titled "Where Do We Go from Here?", a day-long conference bringing together AGBU delegates and Armenia-based representatives of the political class and civil society. This article is the shortened and edited remarks Lara Setrakian made at the opening of the APRI 2022 Fall Meeting: Where Do We Go From Here?