By Mark Dovich
A new census suggests Armenia's population has fallen below 3 million people for the first time since the country gained independence from the Soviet Union. That stands in stark contrast to the Armenian government's demographic goals, with Prime Minister Nikol Pashinyan pledging in 2020 to raise the country's population to at least 5 million people within 30 years.
Armenia's state-run Statistical Committee said last week that as of October 2022, the country's "permanent population" stood at roughly 2.93 million people, a nearly 3% decline from the last census in 2011 and an almost 9% drop since 2001. Armenia's "current population," calculated separately, came in even lower, at about 2.64 million people.
The Armenian government defines the permanent population to include people with permanent residency in Armenia, even if they have lived outside of Armenia for up to the last year. In contrast, the current population counts all people who were in Armenia on the day the census was conducted, even if they do not have permanent residency.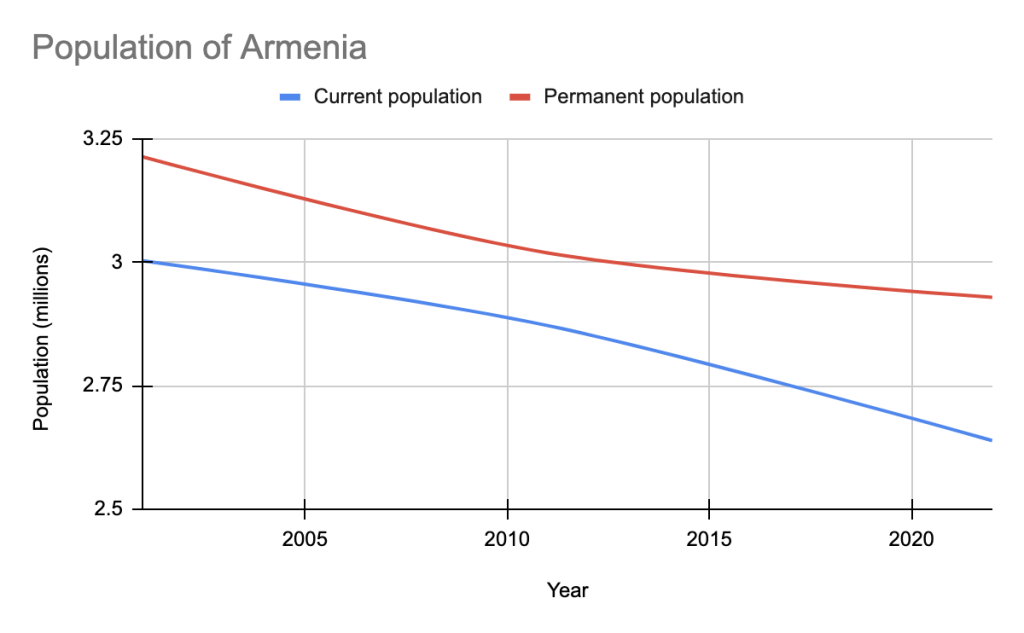 Tsovinar Harutyunyan, head of office at the United Nations Population Fund in Armenia, told CivilNet the findings are "in line with UN projections," while cautioning that the figures are preliminary, with final results expected by the year's end.
Like many other former Soviet countries, Armenia struggles with high emigration figures and falling birth rates. Researcher Artashes Boyajian told Radio Azatutyun, RFE/RL's Armenian service, that since 2018, Armenia's falling birth rates have played a greater role in the country's population decline than emigration. Experts concerned about Armenia's latest census figures also point to economic and security challenges that are tied to the current demographic trends.
The census was initially scheduled to take place in 2020 but was repeatedly postponed due to the COVID-19 pandemic. It marked the first time Armenia counted its population using a mixed methodology that combined household surveys with previously gathered government data. Before, Armenia used only surveys.
While Harutyunyan welcomed that move as a "very important milestone" that brings Armenia closer in line with international standards, Hrant Mikaelian, a senior research fellow at the Caucasus Institute in Yerevan, said he believes it resulted in an undercount in the current population.
"According to the census, the permanent population is 2.9 million, and the current population is 2.6 million. That 10% difference implies that…10% of the population emigrated," Mikaelian said, suggesting that such a large number is unrealistic.
"In reality, not all those who were in the borders of Armenia were counted," Mikaelian argued, adding that, by his own calculations using publicly available data, the country's current population may be closer to about 2.82 million people.