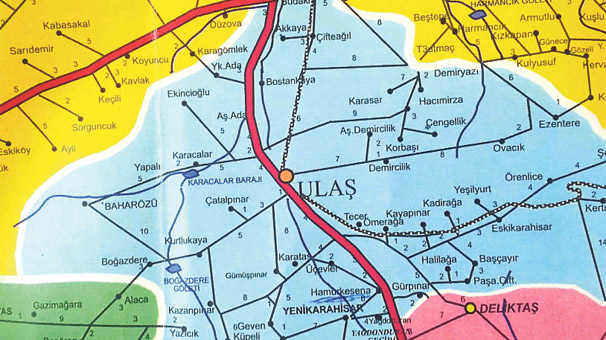 Three brothers who are ethnic Armenians and citizens of the Republic of Turkey have brought a civil court case to demand the return of land that belonged to their ancestors, Milliyet.com.tr reports. The land that they claim belongs to the Hamurkesen family is in Hamurkesen, in the Ulaş district of Turkey's Sivas (Sebastia) province.
In 1870, the land was confiscated from the family, which constitutes a violation of the European Convention of Human Rights. Today, the estate of some 50,000 hectares  is worth 20 million Turkish Liras ($9.9 million). Part of that land has been nationalized.
 In 2000, the Hamurkesen brothers informed their lawyer, Hikmet Güngör, that they were the rightful owners of a large estate in Ulaş that was confiscated from their family in 1870. Güngör did not take any action at that time because he thought there was nothing he could do about it. Later, the brothers found a map of Ulaş that showed a location that matches their surname. They searched in the first Land Registry of the region and found that the name of their ancestors was the same as that of the owner of the estate. 10,000 hectares had been registered under their name, but because they were considered "lost people",  the land has been registered as state-owned. That was what prompted the brothers to take legal action.
The second court of first instance in Sivas classified the case as the illegal appropriation of land deeds. After taking on the case, the court asked the plaintiffs to produce land, military, and cemetery records. Güngör, the family's lawyer, responded that the family's records were lost or difficult to locate due to the 1915 deportations. The court then asked for family records, but the lawyer stated that like other Armenians, his clients' ancestors didn't have known graves.
Lawyers from the treasury looked for the court to reject the plaintiffs' suit. Citing the statute of limitations, those lawyers claim that the case is completely illegal and has no basis in law. In the petition, considering the date of the validation of the registration in the case in 1972, you cannot ask for compensation after 40 years of illegal registration.  The fact that the plaintiff lives in Istanbul serves as further justification to not open the case, those lawyers argue.
Lawyer Güngör has not disclosed the plaintiffs' names for security reasons.