By Houri Berberian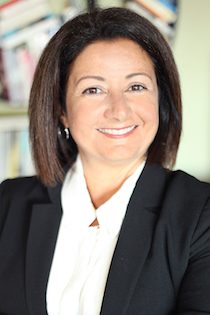 I made several attempts to write this reflection. Of course, first, a paralysis set in. Finally, when I could say something, I felt that it would be too trivial in the face of the horrors unfolding before us. But I did regain the confidence in my voice largely through conversations in and outside of class with young students for whom the history we were studying had come alive in all too familiar and ominous ways and for many of whom this war was/is a profoundly intimate and personal matter.
My initial attempts to jot something down were more academic and less personal. Perhaps this is because my scholarly work and my academic and professional life have tended to be safer spaces for me where I can safeguard my fairly well-hidden (although now exposed) introvert tendencies and pursue my high regard for privacy – both mine and those of others. Of course, the war has made the separation difficult – if not impossible. Nevertheless, I was unprepared for the collision that took place about two weeks ago and prompted me to rethink the theme of this reflection, a much more personal one that all the same emerges out of an encounter precipitated by the war. I want to use the personal here, however, to reflect on the broader themes rather than remain on the "me."
Earlier this month, during a webinar event, "Karabakh in Crisis," I had organized on behalf of the UCI Center for Armenian Studies, I became the target of hate speech as an attendee launched a barrage of misogynist and sexually violent messages, all directed at me and visible only to three others. I reported the case, which is currently under investigation, and I am writing about it now to bring attention to hate excreted by war. Whether inter-communal or intra-communal – in the form of misogynist hate speech over Zoom, vandalism of Armenian schools and churches in San Francisco or Shushi or a Turkish restaurant in Beverly Hills, violent attacks on Armenian protesters in the streets of Lyon – it is hate that has been unleashed or re-released.  It may be asymmetrical, just as the war was, just as the atrocities of the war were, and just as the "statement" that ended it is. Pointing out "asymmetrical hate," however, will not get us far, especially when our disagreements within the diaspora and the homeland with the war's end have sown so much conflict that they have led some to resort to reckless calls for the death of a prime minister on social media. How quickly we seem to have spiraled from the zenith of unity to the pit of discord. Armenia's fairly infant and promising democracy deserves better and needs not only all of us but the best of us.
This piece is part of the Voices on Karabakh collection where a select group of scholars, intellectuals, and artists contribute observations on the war in and for Karabakh. It's an attempt to make sense of this time and this region.