By Syuzanna Petrosyan
[This is a developing story and will be updated as more information comes in.]
Armenia's government has confirmed that Azerbaijani forces have encroached into Armenian territory by about 3.5 kilometers in the southern region of Syunik. As of yet, Azerbaijani forces have not retreated from their positions, negotiations are underway.
On the early morning of May 12, Azerbaijani Armed Forces crossed the Armenia-Azerbaijan border located on Syunik's Sev Lake, and moved their positions 3.5 kilometers inside Armenia. Villagers in nearby Verishen reported the Azerbaijani incursion to CivilNet in the morning. In a late-night meeting with the Security Council, Armenian Prime Minister Nikol Pashinyan confirmed the Azerbaijani advance.
In a government session today, Pashinyan said։ "I want to say that we must take this situation very seriously, because we are dealing with a crisis that may have several scenarios for further development. Our task is that the sovereign territory of Armenia must remain inviolable. And our task is that the Azerbaijani armed forces must withdraw to their starting positions, that is, the positions from which they started advancing, the positions where they were as of May 10."
Pashinyan held another Security Council meeting on the same day. Few hours later he announced that Armenia has officially appealed to the Collective Security Treaty Organization (CSTO). Armenia is a member of the Eurasian military alliance together with Russia, Kazakhstan, Kyrgyzstan, Tajikistan, and Uzbekistan.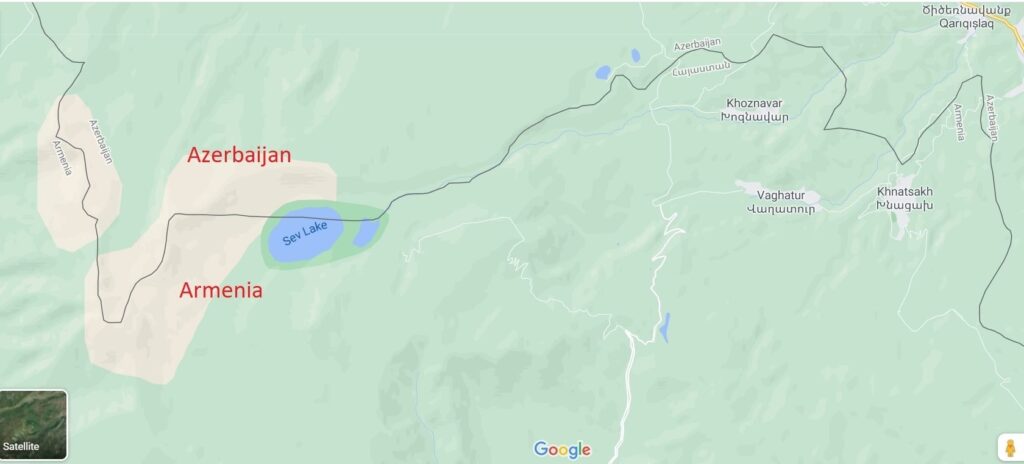 Since the end of the Second Karabakh War, Syunik has had new borders drawn with Azerbaijan in its eastern part. Following the fall of the Soviet Union, there was no border between Armenia-Azerbaijan as the territories adjacent to Syunik were controlled by Armenians in Karabakh
Ararat Ordyan, head of the nearby Verishen village, told Civilnet that community leaders have been negotiating with the Azerbaijani side since the takeover of the lake. Those talks are continuing through May 13 with the presence of Russian military personnel. At the moment, no agreement has been reached, local residents tell CivilNet report Gevorg Tosunyan.
Lake Sev, which is the area in question, is 30% in Azerbaijan while the remaining 70% is on the Armenian side of the state border. According to locals, no Armenian forces were stationed at the lake at the time of the incursion and no clashes occurred.
CivilNet tried to go near the lake, but was stopped by Armenian military police on duty.
"These actions are intolerable because they are an encroachment on the sovereign territory of the Republic of Armenia," stated acting Prime Minister Nikol Pashinyan.
Stanislav Zas, the CSTO Secretary General, discussed the current situation by phone with Acting Defense Minister of the Republic of Armenia Vagharshak Harutyunyan and Acting Foreign Minister of Armenia Ara Ayvazyan.
"The CSTO is closely monitoring the development of the situation in the border areas of the Syunik region of Armenia. As the situation develops, if necessary, actions will be taken in accordance with the provisions of the Collective Security Treaty and the CSTO Charter," the statement read.