By Emil Sanamyan, the article was published on Focus on Karabakh, a project of the USC Institute of Armenian Studies
Speaking with about 40 Armenian media representatives on June 5, Karabakh Defense Army commander Gen. Levon Mnatsakanyan noted that although minor cease-fire violations continue to occur on a daily basis, there has been a reduction in overall tensions on the Line of Contact with Azerbaijan compared to previous years. 
Mnatsakanyan said, in particular, that the Azerbaijani forces have not attempted any cross-border incursions since February. Such operations, reported frequently in 2014-15, have become rare since the April 2016 war, when Azerbaijani special forces suffered substantial casualties, and especially since the Armenian side significantly upgraded its frontline security monitoring equipment. 
At the end of last month, the Defense Army suspended its daily frontline updates that had been done for years, switching to once a week schedule. The Army's press service continued to issue statements "in emergencies," such as fatalities among its personnel, or in response to specific claims by Azerbaijan.
The Azerbaijani side has continued to publish its daily reports about cease-fire violations. Thus, since the February fighting and through the first week of June, Baku's Defense Ministry claimed to have consistently registered between 100 and 155 'violations' daily. In that spread of numbers of alleged violations, some specific numbers appeared much more frequently than others, suggesting that the date set was not truly random. Thus '117' and '120' violations came up at least 7 times each in less than 90 days, 110 and 115 – five times each, and 116 and 128 – four times each. 
Azerbaijan's claims also look suspect, when compared to Armenian reporting. In the same time period, there would be much greater variance in Armenian daily reports of 'violations,' from occasional highs of about 120 to lows of about 25 , and mostly somewhere in between. The Armenian side also provided greater specifics as to where its forces registered cease-fire violations.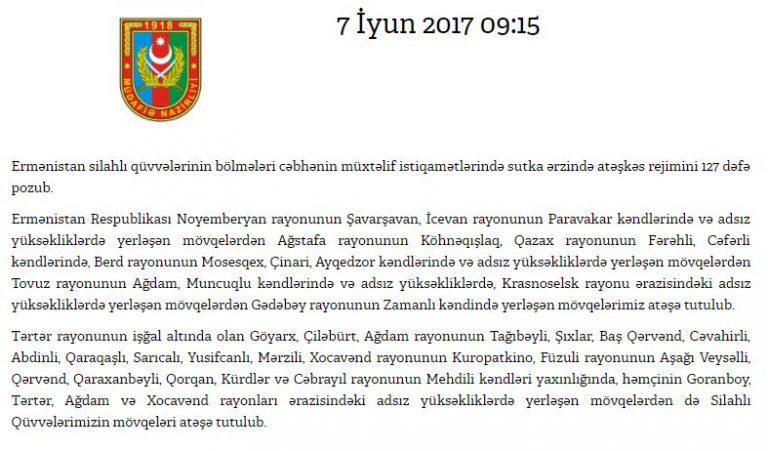 Geographic locations of cease-fire violations mentioned in Azerbaijani reports also appear divorced from actual events. Thus, the Azerbaijani Defense Ministry continues to claim cease-fire violations outside Karabakh, in its Qazax, Aqstafa, Tovuz and Gedebey stretches of the Line of Contact, on the daily basis, whereas such incidents have been rare in recent years, with the Armenian media reporting them only on a handful of occasions since September 2015. 
At the same time, the Azerbaijani government appears to continue to obscure casualty reports. The Azerbaijani Defense Ministry has not reported a single frontline casualty among its own ranks since the February skirmishes that were caught on video surveillance equipment. When reports of fatalities came out, they did so via family members or other eyewitnesses to funerals, writing in social media. Online news media that republished such reports were warned not to do so and some faced prosecution on grounds of violating military secrecy.
By contrast, the Karabakh Defense Army reported on fatalities typically within hours of incidents and media outlets would furnish further details on individuals killed. From the start of the year, 13 Armenian servicemen were reported killed in hostile fire incidents, mostly sniper fire. Seven of 13 were enlisted personnel, two – contracted NCOs and four – officers. Throughout 2016, with the exception of the month of April, Armenian fatalities from cease-fire violations would similarly average two to three servicemen a month. These averages were slightly higher in 2015, although most of the casualties occurred in a few particularly deadly ambushes throughout the year. 
The Armenian side is also moving towards introducing secrecy around some of its frontline reporting, worried that transparency is encouraging continued low-intensity attacks. Thus, the chief of the Armenian General Staff and former Karabakh Defense Army commander Gen. Movses Hakobyan said recently that the Armenian military would no longer report on specific locations of deadly incidents.