By Mark Dovich
Former NATO Secretary General Anders Fogh Rasmussen arrived in Armenia Monday for talks with Armenian Prime Minister Nikol Pashinyan and other senior officials, as well as to visit the entrance to the Lachin corridor and the famed resort town of Jermuk, which suffered heavy shelling in Azerbaijan's assault last September.
Rasmussen also sat down with Armenian reporters and policy experts, including CivilNet Editor-in-Chief Karen Harutyunyan, to discuss the ongoing crisis in Nagorno-Karabakh in his personal capacity as the founder of the Rasmussen Global consultancy.
Below, CivilNet presents Rasmussen's comments on Armenia's security, democracy, and development, lightly edited for length and clarity where necessary.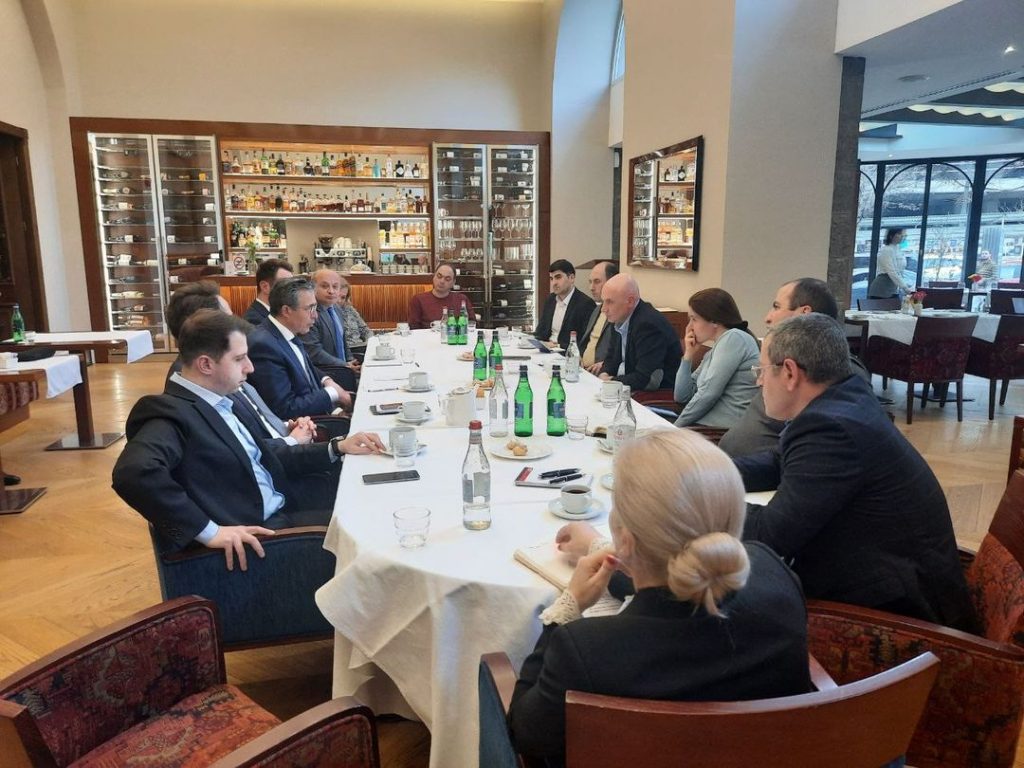 Prospects for Armenia-Azerbaijan peace
I'm focused on how we can ensure a lasting peace settlement between Armenia and Azerbaijan, and, I would stress, a peace settlement that guarantees the security and rights of the people of Nagorno-Karabakh…Obviously that raises the issue of how to actually monitor and guarantee the rights and security of the people of Nagorno-Karabakh. And we have discussed that at length, how the international community could be more strongly involved in a monitoring mission with a robust mandate.
According to international law, most of the international community considers Nagorno-Karabakh a part of Azerbaijan. But of course, it has a special status. So that's why I'm thinking of a lasting peace, a long-term peace agreement, that includes an internationally mandated peacekeeping mission to uphold that special status, irrespective of the status of the Nagorno-Karabakh.
Deploying peacekeepers to Nagorno-Karabakh
An international peacekeeping mission with a robust mandate, in my opinion, would take an armed mission. It's not just a civilian fact-finding mission. Fact finding — that's for now, that's to monitor what's going on right now. But as part of a long-term peace agreement, we would need a multi-annual peacekeeping force that has a robust mandate, ideally of course, mandated by the United Nations, which will involve consent from Russia.
To really protect the rights and security of the people of Nagorno-Karabakh against any possible future attack from Azerbaijan, you need an armed peacekeeping mission, an international peacekeeping mission with a robust mandate. Today I haven't discussed self-defense forces, but it makes sense…It makes sense because at the end of the day, you can only rely on yourself. I also think it makes sense to require a demilitarized zone close to the border.
Ethnic cleansing in Nagorno-Karabakh would be 'red line'
[There should be] international engagement in monitoring the situation so that if ethnic cleansing would take place, the international community would know it right from day one and react to it…Would the West turn a blind eye to an ethnic cleansing? No. I'm sure that will really be a red line.
Azerbaijan's blockade of the Lachin corridor
The blockade of the corridor entails a risk of a very serious humanitarian situation, maybe a humanitarian disaster. And we have to raise awareness of that…In that respect, Azerbaijan should live up to the ruling of the International Court of Justice and allow free access in both directions through this corridor.
Russia did not live up to its security guarantees when we saw the blockade of the corridor.
[Azerbaijan's blockade of the only overland route connecting Nagorno-Karabakh and Armenia entered its 93rd day Tuesday. The blockade has prompted severe shortages of food, medicine, and energy across Nagorno-Karabakh. – ed.]
Transport between mainland Azerbaijan and Nakhichevan via Armenia
I call it a connection, because there is a clear difference between a corridor and a connection. But the Azeris claim that the blockade of the Lachin corridor should be seen in the context of Armenia blocking free access through this connection. Today, I got the impression that the Armenian government is not opposed to free flow through this southern connection under certain conditions.
That will have to be solved in a peace agreement. I understand that, furthermore, the Azeris require protection of this connection by Russia. It's a complicated issue that will have to be solved within a peace agreement.
[The Russia-brokered 2020 ceasefire between Armenia and Azerbaijan calls for "all economic and transport links in the region to be unblocked" and commits Armenia to "guaranteeing the security of transport connections" between mainland Azerbaijan and the exclave of Nakhichevan. Baku has repeatedly called for the route to have the status of a "corridor," implying Azerbaijani control over it. Yerevan has rejected that prospect. – ed.]
'Hard to imagine' West imposing sanctions on Azerbaijan
It's hard to imagine, at least, an announcement of sanctions against a partner with whom you have an energy deal in advance…But as part of deterrence, it might be useful to define at least some red lines, and if they are crossed, there will be consequences. But effective deterrence has never been clear. You always have to uphold some ambiguity as to how and when you will react. But there should be red lines, and they should also be announced, so that it can serve as a deterrent.
[U.S. special envoy Louis Bono said in an exclusive interview with Radio Azatutyun last week that sanctions against Azerbaijan over its actions in the region would be "counterproductive" and are "not even under consideration." – ed.]
Armenia and the European Peace Facility
I think several areas could be considered [in Armenia-European Union relations]. Firstly, of course, concrete economic assistance within the partnership agreement between Armenia and the European Union. Second, maybe an expansion of the EU civilian mission on the border. We have discussed today the possibility to establish a true fact-finding mission, because the Azeris claim there are no humanitarian challenges in Nagorno-Karabakh, but we need an independent, international fact-finding mission to establish facts and figures and the reality on the ground. And the EU, in my opinion, should be prepared to provide people for such a fact-finding mission.
I also think we could look into a strengthened security dialogue between Armenia and the European Union. The European Union has a special fund called the European Peace Facility, which primarily until now has been used for Ukraine for many good reasons. But we could also consider helping Armenia within the framework of that fund. That could be help to purchase Western armament, weapons, and military equipment.
After the Ukraine war, maybe it's more probable than in the past that Europe is ready [to play the role of security guarantor.] I think the West has realized how important the Caucasus has become strategically. I would not exclude the possibility that it may be more a multilateral mechanism in the case of Armenia, because Ukraine and Armenia are two different animals, size-wise. In the case of Armenia, if you sign a peace agreement with Azerbaijan, we will need a group of international guarantors to actually supervise that Armenia and Azerbaijan comply with this peace agreement. And if they don't, I think we will have to describe some of the sanctions in advance as a kind of deterrence.
Does Armenia's CSTO membership preclude European military support?
Could we imagine the European Union engaged in reforms of Armenia's defense sector? Indeed. I think that could and should be part of an engagement of the European Peace Facility and security dialogue between Armenia and the European Union. I would really much like to see the dialogue between Armenia and the European Union elevated to a higher level in exactly that area, which also allows purchase of Western military equipment, financed by the EU.
Of course, we have to be clear-eyed about this. Obviously it's at least a challenge communicating this to a Western audience, that Armenia is still a member of CSTO, but we have seen cooperation between Armenia and NATO, for instance, in the past…So CSTO membership is not an obstacle in itself. It can go in parallel.
No Armenia-Azerbaijan peace treaty without Russia
Can I imagine a peace treaty without the involvement of Russia? To be very honest, no…One thing is you already have Russian peacekeepers present in Nagorno-Karabakh, so that alone would involve some reflections on how Russia could be engaged in this. But next, an international mechanism, or an international peacekeeping mission, in particular with a robust mandate, would probably have to be UN-mandated, and the UN mandate would also involve Russia. So it's hard to imagine in advance that all this could happen without the involvement of Russia.
Could we imagine collaboration between Russia and the West when it comes to the Azerbaijan-Armenia conflict? In principle, I wouldn't exclude that for several reasons. In the past, we have seen such collaboration and pragmatic cooperation between the West and Russia, solving issues where we have a common interest. And actually, I think Russia and the West have common interests in avoiding a new military conflict between Azerbaijan and Armenia.
International monitoring mechanism 'only credible' if US involved
When we're speaking about an international mechanism to monitor all this, it's only credible if we have some kind of U.S. involvement. So a security guarantee — if we use the word guarantee — will always involve the U.S. I say that as a former secretary general of NATO. So with all respect for the European Union, when it comes to hard security, there's only one power on Earth we can trust, and that is the United States. I have to be very blunt about this.
Could Turkey play a 'constructive role' in the region?
I hope that we could see an improvement of relations between Armenia and Turkey in the second half of this year, because I do believe that for many Turks that will open business opportunities. I think it's not in the interest of Turkey to continue blocking the border between Armenia and Turkey, and of course, Turkey could play a constructive role if Turkey put some pressure on Azerbaijan.
Supporting democracy in Armenia
I took the opportunity today to commend the prime minister for his efforts and the efforts of the government to solidify freedom and democracy in Armenia…I'm here to support democracy in Armenia, and I have promised to work with the Armenian government to improve its ties with the West, to diversify, so to speak, its international relations. And I think that's more important than ever.
We owe it to a true democracy in the region to actually help it…I think we owe it to Armenia to do our utmost to help the country on the way forward.